| | |
| --- | --- |
| Posted on December 6, 2013 at 9:55 AM | |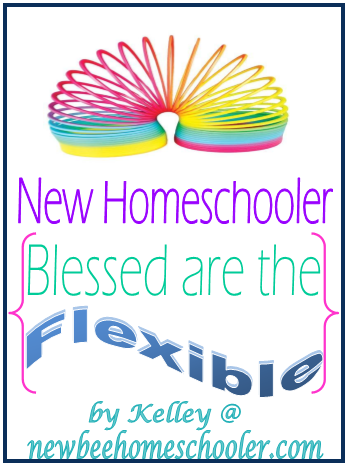 Over time I have learned that one of the beauties of homeschooling is that it can be just about as flexible as needed when life happens. The question is can you be as flexible as needed when life happens?
I look back to our first official day of homeschooling. What a day that was and for all the wrong reasons.
My mom and dad had been gone all week and arrived at our house with my dad having severe back pains. I could tell that something was very wrong and called 911. Thankfully the ambulance arrived within minutes and rushed him to the hospital. The doctors were able to unblock his artery (98% blocked) and stave off a heart attack.
It was so close and so scary and in no way how I pictured my first day of homeschooling.
Now comes the part about how homeschooling is flexible but you have to be flexible first. I must have missed that lesson somewhere because I wasn't flexible. Nope we were going to push on through, no matter that my parents were living with us at the time while their house was being built, no matter that it would have been okay to take some time and come back to our kindergarten curriculum (it sure wasn't going anywhere), no matter that the focus needed to be on my dad and helping him heal.
Oh sure I was at the hospital and home helping, but I put my daughter and myself through the wringer trying to get school done each day. Never mind that we were exhausted and I was cranky trying to be superwoman and making sure everything/everyone was being cared for.
What a mess and what a learning experience. My daughter who had loved learning up to this point was not liking anything to do with learning after a short time with crazy inflexible momma. I wonder why, it couldn't be me could it? Of course it was.
I wasn't able to enjoy homeschool freedom and flexibility at that time. I just knew we HAD to school each day and complete all of our lessons each day. Needless to say it wasn't working so I went to the other extreme and stopped schooling altogether.
Was that the answer, at that point no, but I am an all or nothing type of gal. I wasn't flexible nor balanced at that point in time. I did learn some things though. Oh I still wasn't as flexible or balanced as I needed to be, but I learned that I had to start working on that.
When Life and Homeschool Meet Up
So what will you do when life throws you a curveball? Will you be so determined to get it all done that the love of learning and teaching gets lost? Or can you step back from the situation and objectively look and see what adjustments can be made to keep everyone's sanity?
It doesn't mean that homeschooling gets shut down completely, but it could mean that only the 3 R's are focused on, or even just math and reading aloud for a bit until things settle down enough to start folding back in subjects as life settles down.
There may be times when you have such a huge curveball that you have to revamp homeschooling and opt for a computer or dvd program to help you for a while.
Each situation is different and each solution will be different as well. They key though is your being able to be flexible in your thinking about homeschooling, discerning enough to see when you can work your way back to your full schedule of homeschooling, patient enough to give yourself the break you and your family may need during this time and keeping your long term homeschool goals in sight so that you can adjust to your current situation and move forward as your circumstances allow.
If you can learn now to be flexible in the small things, say when you or one of your children are sick or when the weather is just beautiful and the park seems to be calling your name, then when something major happens you will have some practice at being flexible. 
Homeschooling is a part of your life and when life changes then adjustments have to be made, just like any other part of your life. As you learn to adapt to the present and keep your long term homeschool goals in view you will find success in your homeschool journey.
Kelley
Categories: New Bee Articles Misc., New Bee Articles-Common Homeschooling Mistakes