| | |
| --- | --- |
| Posted on September 1, 2011 at 1:50 AM | |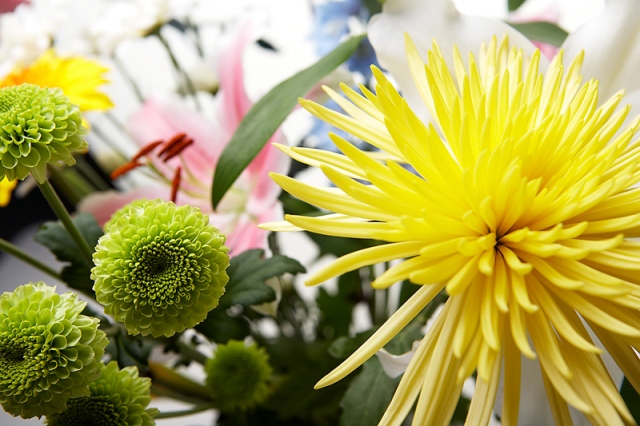 First a thousand apologies for not receiving that video. Thinking it was my fault because I had not imbedded it correctly,(prone to happen because its' not my favorite thing to do, techy things)  I sent again  Mr. Parr's Science Video and this time I made sure I saw the video imbedded. Then I realized, it still did not come through correctly. So it is my video feature not working correctly....as I can still see the video imbedded on my blog--- but ya'll never got it.  This too may have to be one of the features that work better on my facebook. So sorry about it not working and two posts yesterday. Here is the direct link, I really like these science videos, you got to listen to this one and then his other ones too.
http://www.youtube.com/watch?v=0A5eeE93uEA
All I can say is ya'll have to be the best followers to put up with me as I learn to bring up my techy skills with the things I love doing like printables.
Can I make it up to you? Yippeee.......How about a printable for the planner - a Grading Sheet? I have actually been working on this for a while determining what will work and what is needed and to make room for flexibility. I noticed there are not many that are free for printing, there are tons free for just online grade books. The ones that are  free for printing have lots of blanks or looks like that old fashion bookkeeping journals with lots of line and no instructions..yuk, yuk and yuk..(did I say it enough)
What are you suppose to do with that? I do like those old fashioned Journal Ledgers you buy at office stores but not for this ma'am.
Look at the picture below as I explain here how to use it and why.
1. I made it "Editable".  Yes this is my first editable document, so go easy. I have wayyy forms planned that I will create editable but I will start with something easy first.
2. It is a Monthly Sheet and it is made for 3 children. Please Note: (I know some of ya'll are teaching way more than 3 children but three is a good number that fits on most pages and still allows you room to navigate. So print off two sheets if you have 4 or more kids OR you might have some little ones that don't need grades and  so you might be only needing to keep grades for the older set of kids 
3. All kids are on one page (or two) and it is divided by section for each child's subject. In a nutshell, it is ALL of your children that you are grading that  month on ONE page (please keep it organized and streamlined ma'am....oodles of pages does not organized make, it creates headaches) and it is ALL of their subjects for that month. Also it allows you two places per section to add courses that are specific and unique to that child.
For example you may have a high schooler and he is taking a foreign language course but your kindergartener is not. The two sections allows you to "tailor" to fit to that child.
The Core Subjects are already added to each section. We cover those subjects from K to 12 so that should always go on just about every form.
4. I want my forms to look good (I got to look at it each day..lol)  neat, printable, able to be coil bound and with enough room to hand write neatly the grade in each box.
5. This example page you see below can be downloaded so you can study it too because I have my notes on it how to use it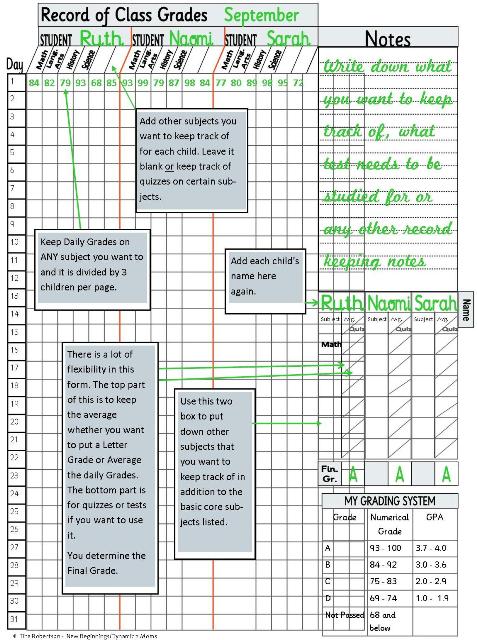 Here is the Grade Sheet to download. (if you get time, please let me know if it works correctly. this feedback is so valuable on preparing future things I have in mind..ONLY if you have time. Put it on the blog page if you don't mind instead of emailing me. It stays with this form and I can review it when I get time instead of digging in my inbox..MUCHO GRACIAS)
Here is the Example to Download. (Again these are not found on my site until I add them. I have a "timeslot" when I upgrade the website and because you follow me and well...yes yes because I like ya too....grab them off my blog here.)
 What's up for tomorrow? Well I got some more freebies and the pictures from our field trip but also some tips if you want to host a co-op  about coral reefs or if you are part of a co-op for oceans.
Hugs for today and remember, we need a support system, include those grandparents. The respect, love and honor you and your children show them whether they support you in homeschool or not empowers YOU in your decision. Why? Because if they are not supportive of your endeavor, you gain them over by letting them know you need them to enrich your children's education by teaching them what they know. The outcome is hopefully that grandparents will see  they have wisdom, experience and love that only is their right to impart to your children.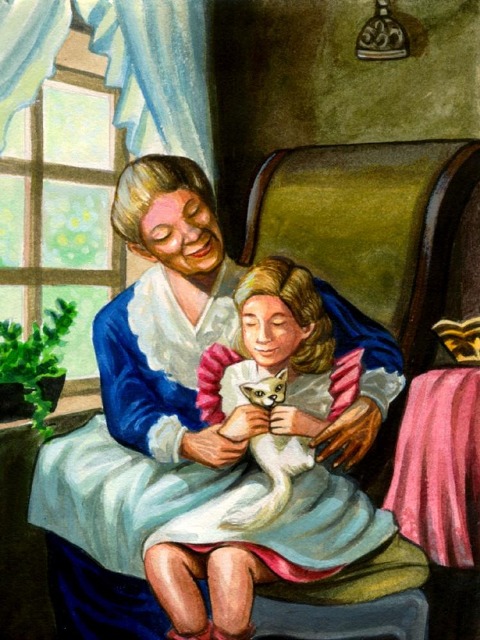 "Nobody can do for little children what grandparents do. Grandparents sort of sprinkle stardust over the lives of little children."
~Alex Haley~
Categories: Assessment Sites