| | |
| --- | --- |
| Posted on July 28, 2011 at 9:00 AM | |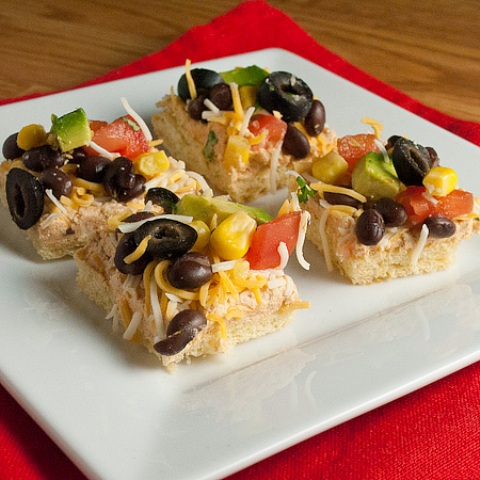 (Picture from Real Mom Kitchen - Crescent Mexican Pizza - ewww so good and SOOO easy)
In my second part of going Beyond Peanut Butter and Jelly, I wanted to share a few more lunch ideas to keep us inspired  so we don't get the homeschool blahs when it comes to lunch time.
Soon after I started homeschooling and my mornings got more consumed with teaching because the kids got older, I no longer had the same time to think about "what's for lunch" like I did when they were very young.
I got in a rut of the same old lunch -- you know sandwiches, salads and soups. In order to enjoy my time at home more, I needed to change our routine for lunch. Two things though couldn't change and that is 1) it still had to be easy/quick and 2) I am not a "hot pocket" type of girl so I wasn't willing to compromise on food that was "instant". (Don't start taking this to mean we don't like our microwave but it gets old fast - you know what I mean.)
Crescent rolls to the rescue. Have you ever looked into all the ways that you can make crescent rolls beyond pigs in the blanket? The good thing about it too is that the boys can bake these and prepare on their own. There is even a copy cat recipe for home made crescent rolls and yes they are even better homemade.  Look here.
Look at the recipe here for Crescent Mexican Pizza and grab that recipe (yum yum)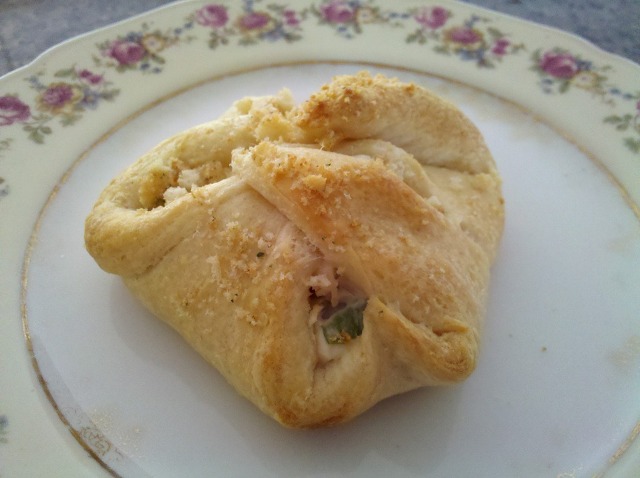 (Picture from Mystery Lovers' Kitchen of Chicken Crescent - cream cheese, chicken , green onions..love love those things)
The thing about most recipes is that they take like 15 minutes to bake. Including this one that I love from Mystery Lovers' Kitchen. Look at it here. These ingredients are just cooked chicken or you could use ham, cheese AND my boys love pepperoni, pizza sauce, mozzarella and black olives.
Stick anything you like inside and fold over and bake...You can even lay it flat and add toppings.
Switching gears here----presentation seems to be everything with small ones. Look at these muffin tins. When you have several little ones, (yes you feel like you're running an assembly line at times) try to make lunches ahead of time - everything little thing helps as you have several small ones to teach. Look at this --- such a great idea from Muffin Tin Mom.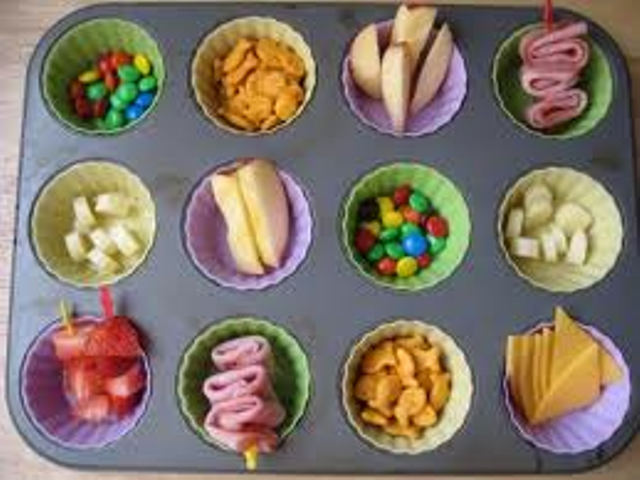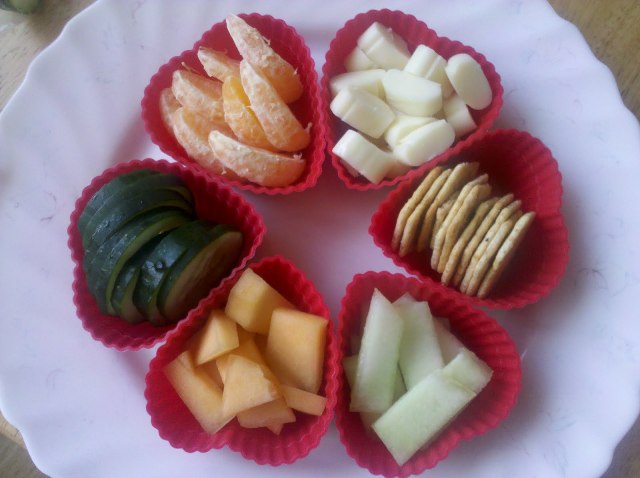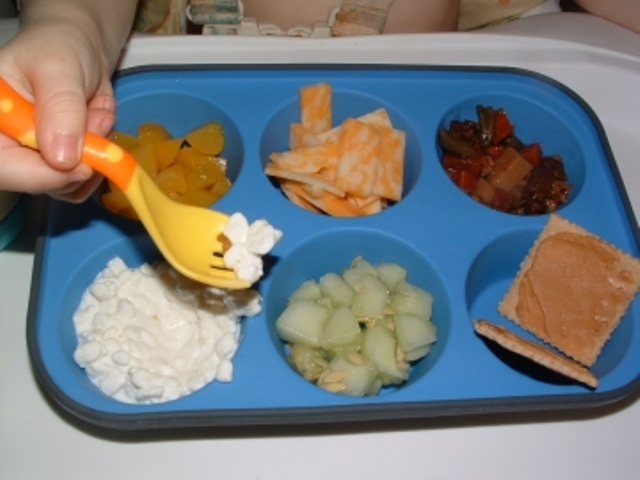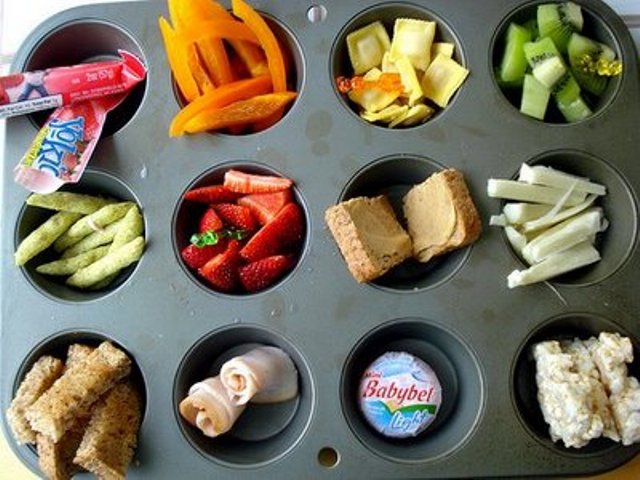 The beauty of these is that you can make ahead of time while you have time in the morning and stack in the refrigerator AND they are just the "right portion" size for sweet little hungry mouths.
The ideas are endless of what you can put in each tin and waste is minimal AND did I mention they seem to eat better because it is fun?
Go here to read about the Muffin Tin Mom and all her great ideas.
Don't forget your older (younger kids) lol! I also made for my older two boys and still do for my youngest one at times his lunch ahead of time in the lunch box of his choice. Who says lunch boxes are only for public school kids or field trips? Make their lunch ahead of time and stick in the refrigerator too alongside these muffin tins. 
As far as more lunch ideas, we like nachos - you can stack any leftover on them. Whether you have canned or fresh items on hand, a good zap in the microwave brings it all to life.
One more we like is to simply make platters and sit down in the living room instead of the kitchen table to eat. One platter is deli lunch meat, another one is assorted pickles and olives, cheeses, and my boys love carrots, carrot chips and fresh veggies with assorted dips. Also we get rid of any leftover crackers this way or even bread.
and never never forget, you can ALWAYS fall back on Peanut Butter and Jelly.....

Do ya'll remember about a month and half ago when I found out that another blogger had copied the whole page off my personal site Dynamic 2 Moms about Frogs? At first, like anybody  else I was one hot momma. I mean come on folks, I guess I would rather have nothing to share/write about  and 10 honest friends following me to then to plagiarize someone's else precious time consuming work...
Well Cassie who owns/runs The Crafty Crow is the one that found that other blogger and brought it to my attention and then thanks to some faithful followers who posted to her and to Wordpress, her blog was pulled.
Looking back, I know I must be crazy for saying this, but I really felt sorry for that blogger--- I can't be mean long...but the beauty in all of this is you find other faithful and loyal bloggers who are sharing their ideas freely for the benefit of all of us and one of those is Cassie.
Wow, have you seen her ideas?
Look at this picture that Cassie shared from Cluck Cluck Sew and then go check out her ideas. I LOVE her organization as she has her crafts sorted by age on the right side AND "type".
Look at how they used material for their project...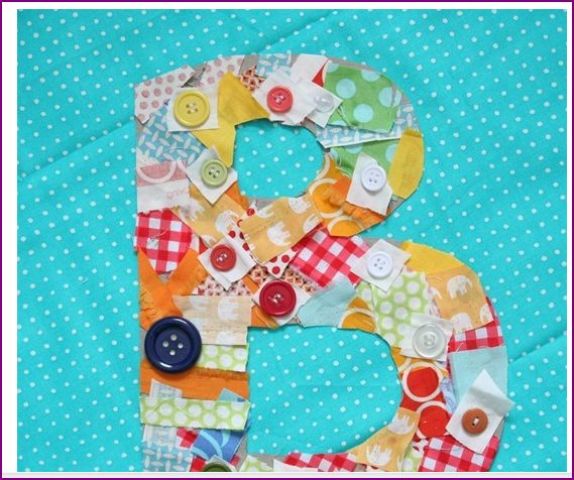 (Picture from Cluck Cluck Sew ..isn't this just too cute?)
What a neat way to use your fabric or REALLY anything for learning the ABC's.  I bet you could use wrapping paper, old post cards...and copies of family photos by just adding buttons. I don't even sew and I have TONS of buttons.
This reminds me of what we did one year when my youngest was learning his ABC's. I gathered all those small toys in the bottom of the toy box..you know the ones that were not part of a set...ones we got from every place we had eaten at and otherwise mismatched....
I gathered them all up and sorted them in baggies by letter of the alphabet so we could glue them on big letters that I got from Lake Shore Learning. Wait till school starts and you can get their items like 50% or more off. What I couldn't find in the bottom of the toy box like the letter "x" or that were harder to find, I visited the dollar store for those items...
Also, I had small toys from baby showers I had hosted? Ever have left over little toy bears and blocks and things to go on a corsage? I used those too.
Look at our picture here. He had a small axe in the bottom of his toybox....and we used the scrapbook punch for some ants and don't forget those left over stickers to use on these letters too.
I only made him add as many things as he wanted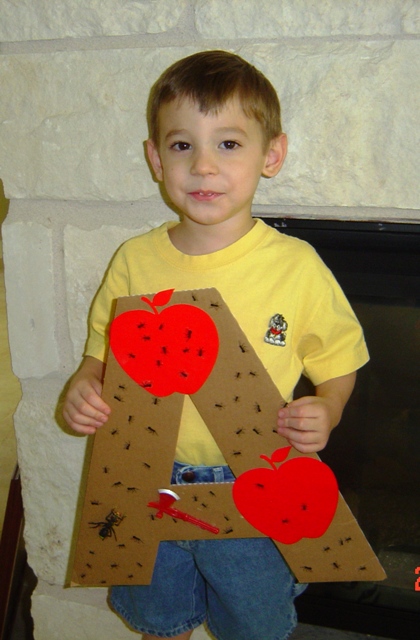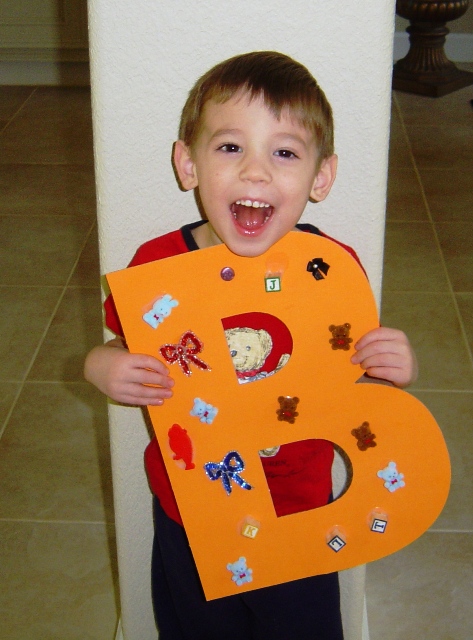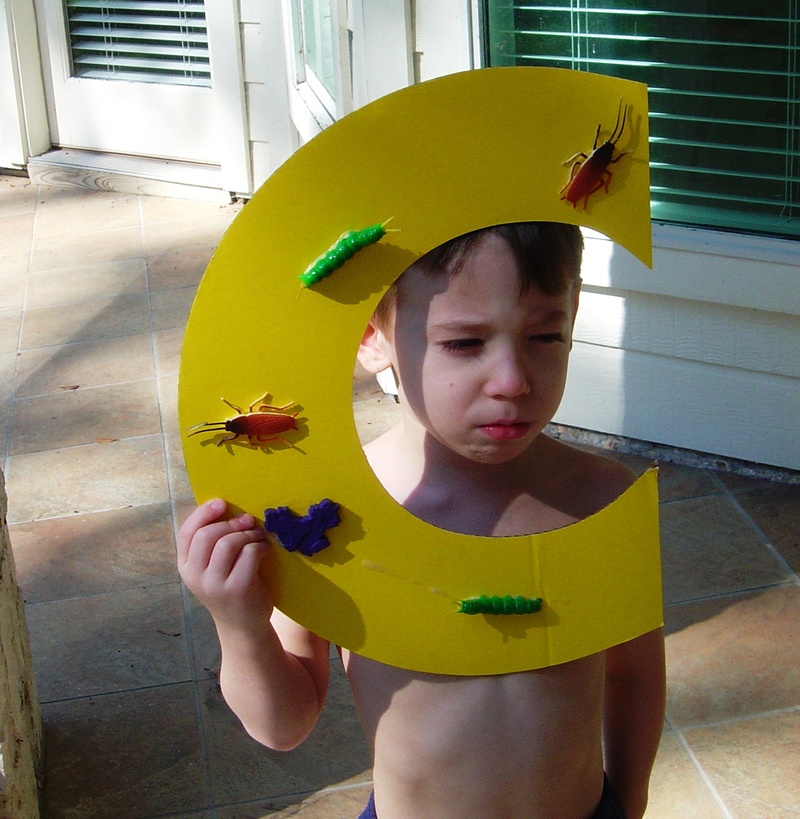 When we got to "C" he was not impressed by the caterpillars, cockroaches or crickets he had in his toybox and refused to glue anymore on it.....So I said okay, let's have a smile for momma for a picture and uhmmmm this is what I got.. It never goes as planned..
How about some freebies? Tomorrow I have some more free curriculum resources to share.
TIME SENSITIVE FREEBIES (hurry hurry today)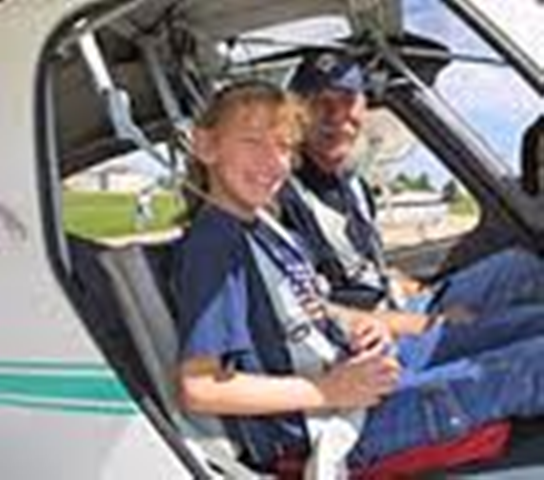 If you're interested, Free Preventing & Treating Foot Problems Coloring Book for Kids
http://www.stopfootpainfast.com/reports/free-kids-coloring-book.cfm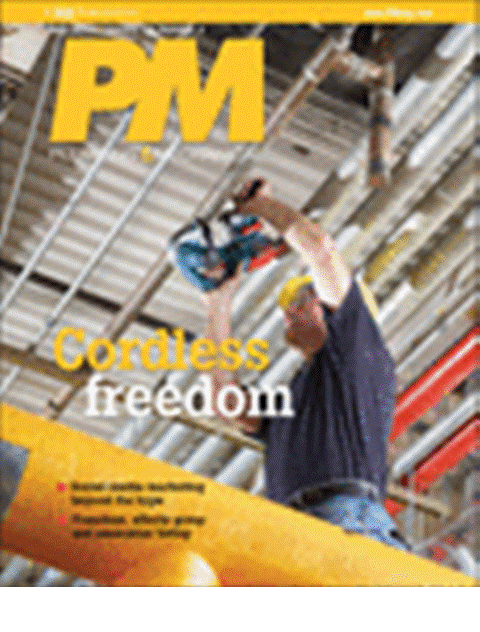 This looks like a cool offer to add to our curriculum.
Free Plumbing & Mechanical Magazine Subscription
Trade Pub is offering a FREE subscription to Plumbing & Mechanical. This magazine features field-covered, illustrated case histories, and in-depth news stories for the plumbing-hydronic-heating-piping trades contractor. This offer is available to those who qualify in the U.S. for a limited time.
http://tradepub.com/free/pbm/prgm.cgi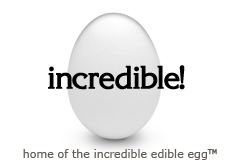 Get a FREE Eggceptional DVD, Egg Safety and Quality Poster, and Guide these are available to order again just in case you may have missed this.
• FREE Egg Safety and Quality Poster
• FREE The Special of the Day: The Eggceptional Egg DVD
• FREE Egg Handling & Care Guide
http://www.aeb.org/foodservice-professionals/egg-safety/egg-safety-material-order-form
Hugs for today and remember
From Todd Wilson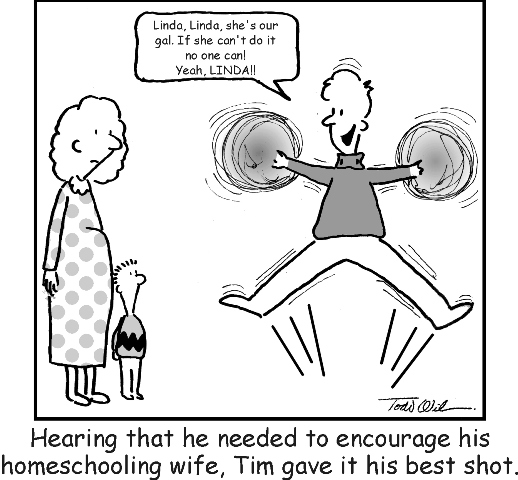 Categories: Arts & Crafts/Books/Lessons, New Bee Articles-Organization (Home & School), Cookbooks/Recipes/Menus