| | |
| --- | --- |
| Posted on June 23, 2011 at 8:21 PM | |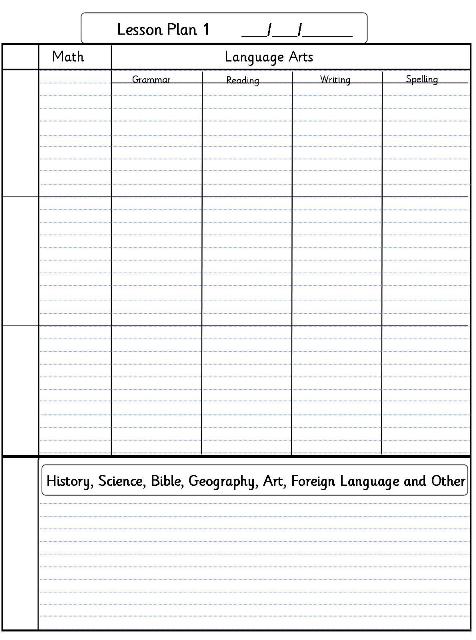 I am here to tell you that not all lesson plans are created equal.
I have criteria for what I consider what are and what are NOT good lesson plans and especially if you are new, struggling or just don't want to make them. Even those that have been homeschooling for a long time, still like to have something to fall back on because life is unpredictable.
Here is my tip if you want and need help in lesson planning:
It has to be "actual" lesson plans and not a check-off list.
As much good curriculum as we have to choose from, there are some curricula providers that make their own lesson plans and some that are simply glorified check-off lists. How can you tell?
Before I explain further, let me share one more point so I don't confuse anybody and that is most all providers have supplemental material they choose from to include in their boxed material whether it's a reader, spelling, math or cursive lesson plans.
The difference is that one curricula provider actually "writes" lesson plans for that supplemental material and another one "provides a checklist" following the manual that may come with that supplemental material.
Have I lost you yet? Well a picture is needed here and I am going to pick on two of my favorite curriculum providers because they can take this comparison.
Keep in mind ya'll this is not "bashing" but "comparing" as Sonlight and Calvert are two that I recommend often and two providers I like. You just need to know "what is what" so YOU can make the determination for your needs.
Look at this snippet of Sonlight's Instructor Guide for the 4th - 5th grade Language Arts. Ever wonder why it's called Instructor Guide and not Teacher's Manual? I personally like the fact they "identified exactly" what they are doing for you which is GUIDING the instructor.
Sonlights Instructor Guide Snippet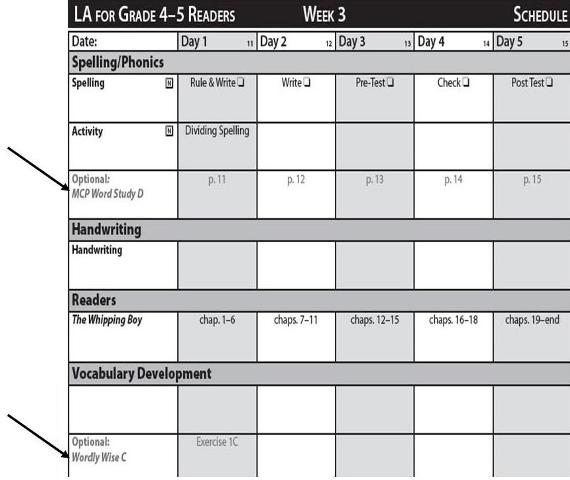 Look at my arrows-they are directing you to use ANOTHER curriculum provider's resource. Of course again there is nothing wrong with this if that is what you want.
But tell me? What is wrong with YOU getting that same resource and following the material laid out in the guide that comes with Wordly Wise or MCP which stands for Modern Curriculum Press Word Study?
Even though they give you wonderful hand holding, Sonlight tends to be more of a glorified check off list or Guide for the Instructor. Too, I would take Sonlight over "no guidance" OR even if I had the choice between it and a "teacher's manual" designed for a public school teacher. The reason why is that with a teacher's manual written directly for a public school teach, for example, a "high school math" teacher the assumption is made your background/degree and strength is in math. A company that has a homeschool division like Calvert understands the needs of the homeschooling parent about needing background information.
The Instructor's Guide, like Sonlight, do a good job of instructing you on how to use those resources but if you used a curriculum planning sheet like mine above, you can do a job that is specifically "suited" for your kids and pull together your own Instructor's Guide.
Now look at this next picture from Calvert (again another favorite even though they are secular it can be  taught with a Christian view). Their Teacher's Manual is premier in my opinion of teachers who actually write lesson plans. The spelling words/list are actually theirs, the math is theirs and the vocabulary words are theirs.
A Beka and Bob Jones follow this same premise as Calvert.
Starting to see the difficulty in comparing two "UNLIKE" curriculum providers?
Calvert's Teacher's Manual  
  Notice this comparison of the Language Usage instruction for 6th Grade. Do you see that you are actually receiving instruction from CALVERT, a teacher, a  school?
Too, notice that I could not get even HALF their Teacher's Manual page on here. This is a "section" off one page because the actual Lesson is several pages long of instruction.
You are not digging around ANOTHER guide that you are sent to and then try to understand the points you are teaching from another lesson manual. They give you the background as the teacher right there AND their lesson plans are "specifically" written to "homeschoolers" NOT to public school teachers (another great biggie in their favor when you need it).
Calvert has their own penmanship they designed. They do not use Zaner Bloser or traditional cursive but it is a penmanship CREATED specifically by them. In other words, unlike Sonlight they do not direct you to Reason for Writing, Sequential Spelling, Wordly Wise, etc.
About 80% or more of the content and lesson plans are their "original" work.
This is the same for their math, vocabulary and spelling lists (though they have at times used supplemental programs) they will always write the lesson plan to MEET their standards.
Calvert is scripted, gives background information to the non-educationalese momma, and explains thoroughly. Their Teacher's Manual is TOPS in providing actual lesson plans.
Calvert is more expensive, but then what do you want to pay for? Sonlight is excellent too if you want a guide along with practical tips.
The ole adage "beauty is in the eye of the beholder" is ESPECIALLY true with curriculum. One year you may want just guidance and to use a variety of curricula pulled together like Sonlight does (wonderful job) OR you may need "actual lesson plan and scripted and teaching" which also has a huge advantage because of the excellent education your children receive.
Comparing curricula that is "like to like"  is vital to do and at times I end up telling homeschoolers two curricula can't be compared because they are not in the same league.
Phew....got all of that? Hope it helps...
Hugs out to ya!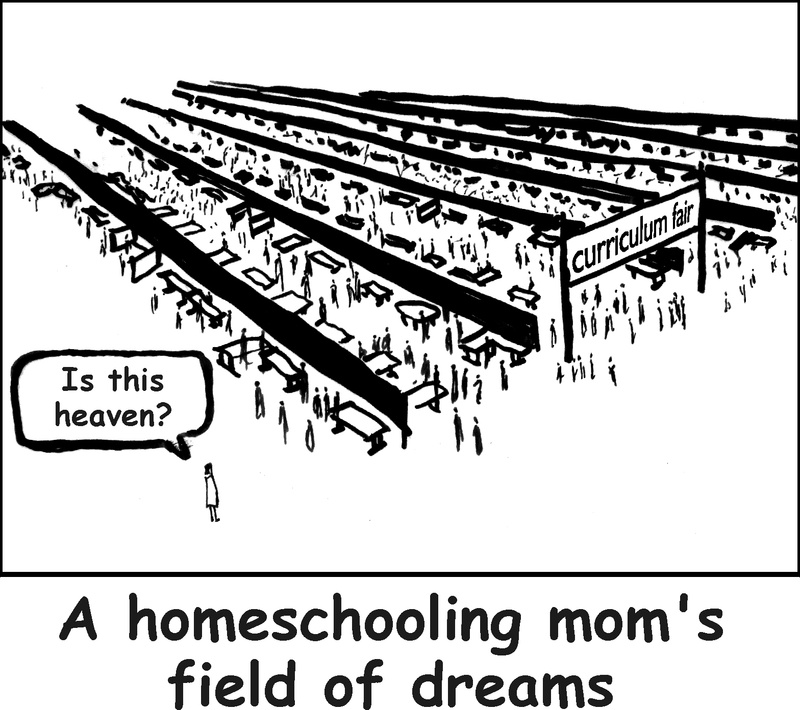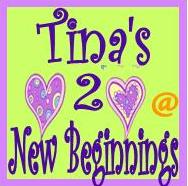 Categories: New Bee Articles-Common Homeschooling Mistakes, New Bee Articles-Curriculum/How to's/Teaching/Subjects, New Bee Articles-Organization (Home & School)