| | |
| --- | --- |
| Posted on May 5, 2013 at 8:25 PM | |
 I have been in love over the past couple of weeks with my updated turquoise pantry.  You know I told you I have my own pantry. Well almost. It is a second pantry because I really like having a separate place that I can keep what is needed for when I cook. Since it is separate from my main pantry which is for the kids' snacks and cereal, etc., it allows me to find what I need and organize easier when I menu plan. Also, I keep my salad stuff in here because I love a good salad as part of lunch.  My main pantry is small and I have the room so I really like organizing my food this way. What do you think about the change? I am in love with my new baskets.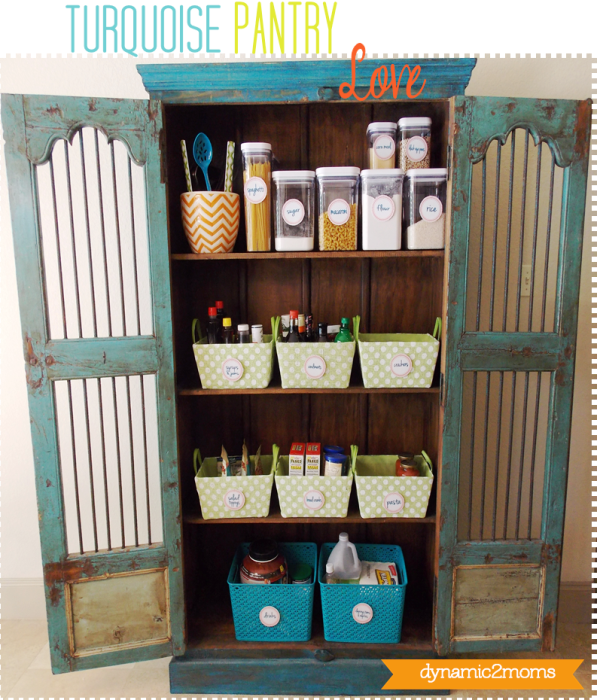 If you want to see how it looked before, you can see it here. A small change, but one I love.  Okay, now to what I purged, kept, used elsewhere, bought and made.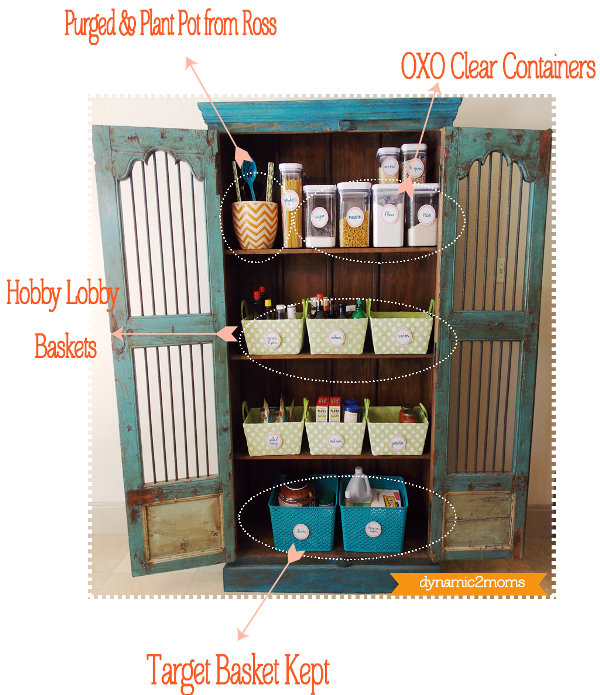 I purged my cooking utensils. Though we grill outside during the summer quite a bit, I didn't need all of the cooking utensils I had. I do wash my dishes so I figured I could purge the cooking utensils and I did. I got down to one container.
Did I tell you that I use flower pots for storage? They come in way more colors than a utensil caddy, are normally cheaper and you can find them in bigger sizes. The orange chevron flower pot I found at Ross and fell in love. I used the yellow ones in my kitchen elsewhere. My clear containers are OXO. I know they are expensive but I love them because of how they all fit together. They just about make you measure and plan before you buy which is the way to do it.

But the biggest change has to be my green baskets from Hobby Lobby. The green baskets change the look and are the right size that I need. Since I use this more like a cooking pantry I was not looking for big or deep baskets. I ended up keeping the original turquoise baskets on the very bottom. I got them from Target but this is also where the Mr. keeps his protein drinks and I like to keep my cleaning stuff handy too like vinegar and napkins for the table. So it worked out better to have something bigger at the bottom.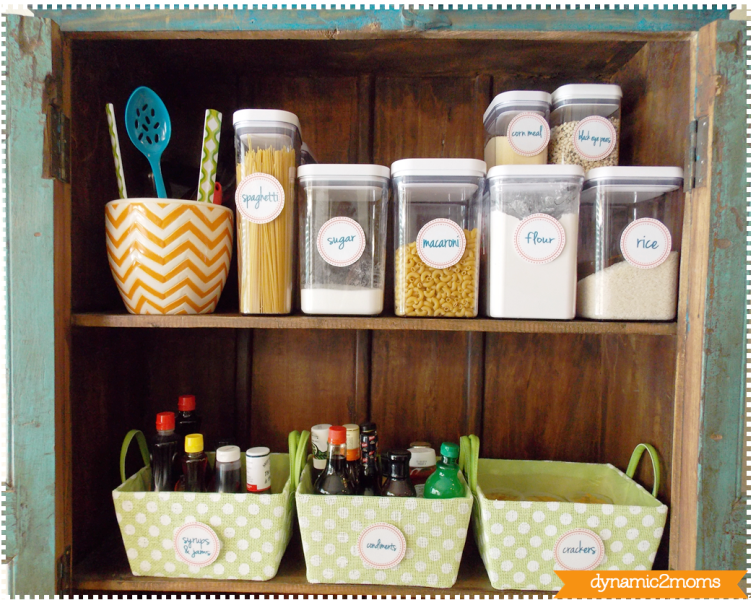 Well I take that back, maybe the biggest change was that I finally got to label. Unless I label, a project is not finished. Remember I told you that labeling is always my last thing to do because I like to use something for a while before I label to be sure I like the lay out. Take your time when organizing and before you label to be sure you like the set up. I looked at my set up for months before I decided that I wanted different baskets.

I got the labels here for you that I used, but I am going to give them to you in two formats.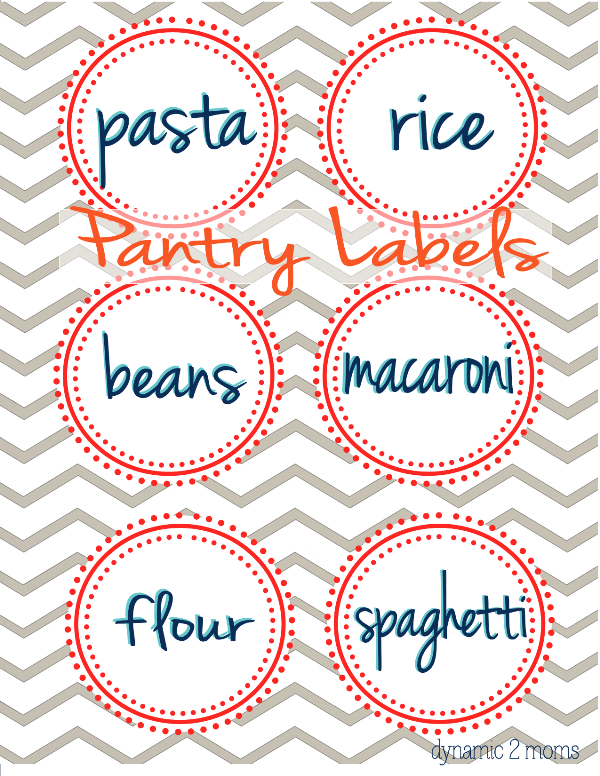 Download Picture Format or Png Here.

One format is a pdf but the other is a  picture format because I want to show you how to fill in the labels that are PERFECT for you. You may or may not have the same items to label that I have. Also because this is my cooking pantry you may want to do your main pantry or you may need several of the same thing. So instead of me deciding your font & color like an editable pdf, I want to show you how to make your own using part of what I give you.
This tutorial is in Word because it is easy and also because a lot of us have some kind of word processing program we use.  Here it is step by step.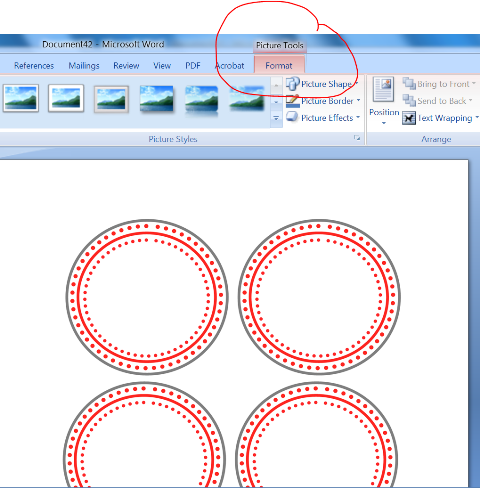 Open your Word Document. Copy and paste the picture file in your program after you download it from this blog post. Use the Picture Tools Format and click the picture to pull it out some and position it on your page. Get her straight on your page.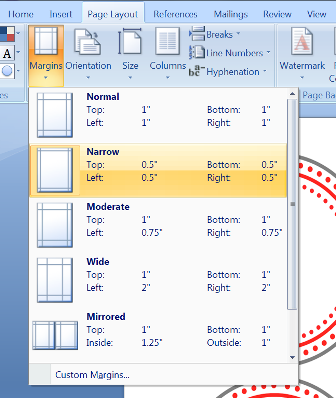 One more tip to be sure it fits, fills your page nice and is big enough on the page is to use Page Layout and change the margins to narrow. Then pull the picture by clicking on it to cover more of the page. Check the bottom of your page to be sure you are not off the page. Be sure it covers as much as it can without going off the page and you should have labels that are nice and big when you finish.


Click on the Insert Tab and insert a Text Box. I just use the simple text box. After you click on it, then use the cursor to position that box over your first label. Move it there by dragging it in place. Oh, and be sure to delete all the text in that box. Just highlight the text and hit delete.  The text should go away and your box should stay and be empty if you did it right.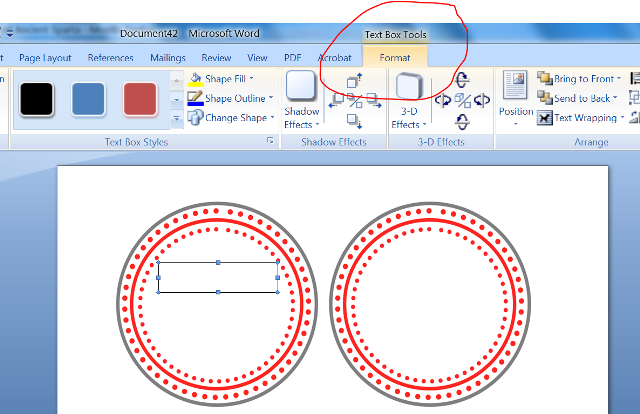 Now we need to get rid of that ugly black line. Right Click on the box and go down to Format Text Box. Look for Line and click the drop down button and scroll down to No Color, Click Ok. Now we don't have a border around the text box. It has an invisible border.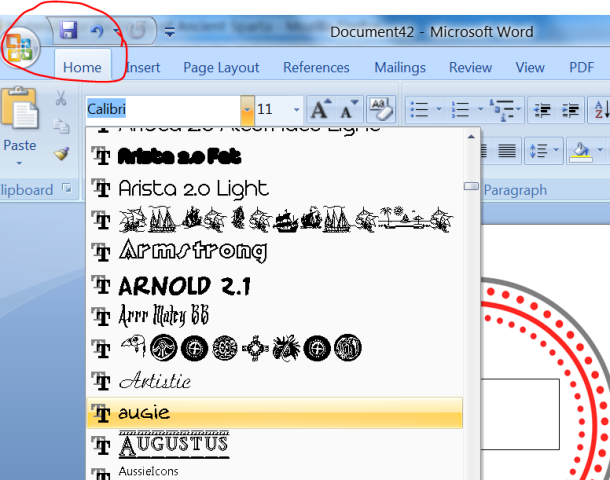 Now the fun part. Take your time to make your font and color choice. Put your cursor inside of the text box. Be sure you are on the Home Tab and click down to choose a font. I just chose the first pretty one I saw in my menu. If you need your print larger make it larger.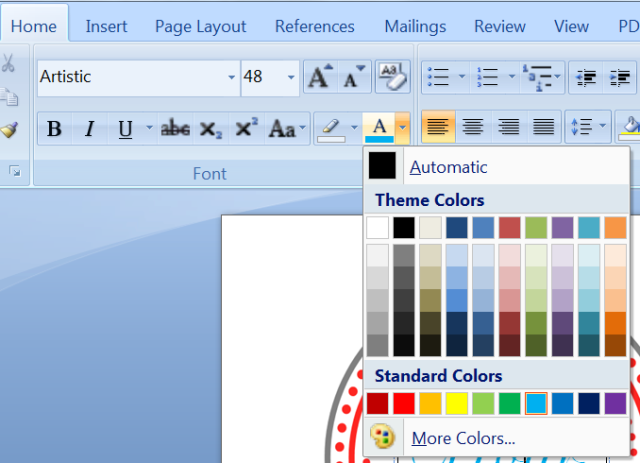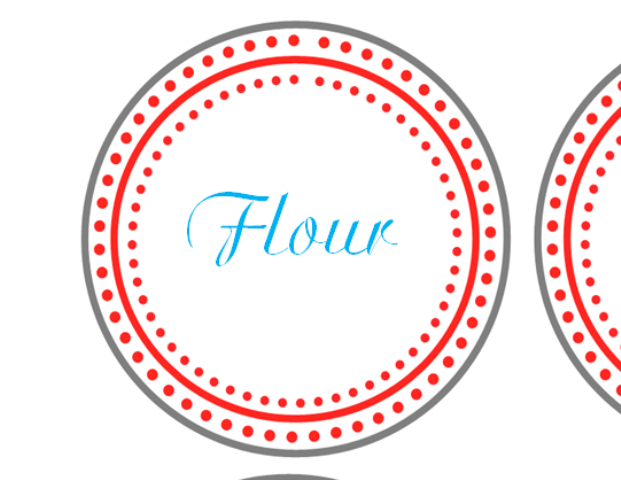 I chose Artistic from my fonts and I chose the color blue and typed my first label. Isn't that pretty?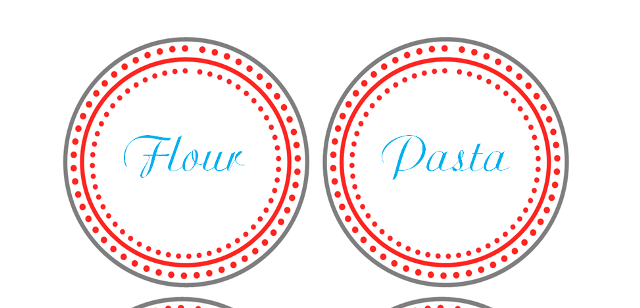 Instead of going back through all of this again to make the rest of them, just right click the first one you made and copy it. Then paste it somewhere on your page. It doesn't matter where. Just grab the copy and place it on the next label. Type in your next name or label. Keep doing that for each label. You can create as many color combinations as you want to. I did two. You can change the color for every label. Easy, peazy, diy and you get exactly what you like.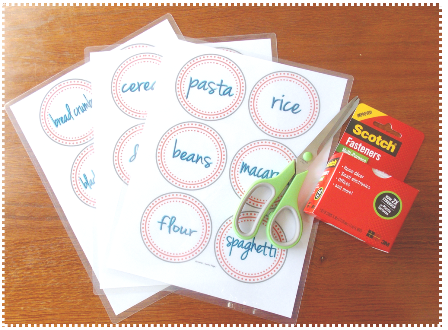 One last thing to share with you is how to attach them. I get all my labels laminated. It doesn't cost but a few bucks and it so worth it. You don't want it or need it very thick so even a home laminator works fine for this. As far as attaching them I prefer to use Scotch fasteners that come in a roll. I use a roll so I can cheat. I cut off a long enough piece so that I can reposition the circle as needed to get it balanced with the rest.  In other words repositioning the circle on the container up or down using a longer piece of strip, giving it a nudge or two gets the labels close enough to looking balanced without measuring each label on the container up and across.
My house is not perfect but I enjoy it and don't want to spend 30 minutes finding center. I take more care with how far up or vertical I go but not across. Scotch has been better over the years because they are known for being sticky and holding. So brand matters to me in this.
By using velcro too, you can switch out containers anytime you want to and use another label. I try not to label containers "permanently" unless I am for sure it will have the same content for years which is why I like velcro because I can switch containers and use it for something else.
Cut out the circles on the gray line or cut the gray line away.  The label looks cleaner when it has an outside edge that is white and the only way for me to show you that was to put a gray circle around it. That's it, all done.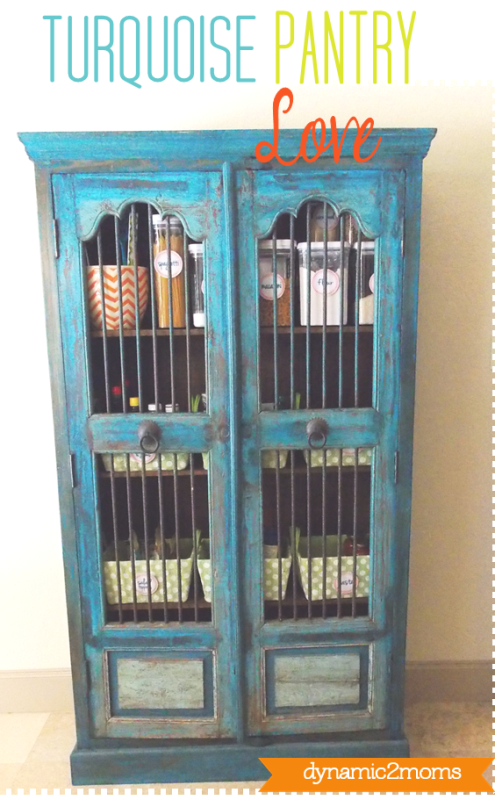 I will print another set of labels to store in my Home Management Binder so I can have them handy. Are you doing a small project or two in conjunction with updating your Home Management Binder this year? I am lovinggggggg my new pantry updo.

Hugs and love ya,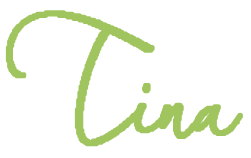 Categories: New Bee Articles-Organization (Home & School), Dynamic 2 Moms Planner Printables, Organizational Printables