| | |
| --- | --- |
| Posted on March 21, 2013 at 10:30 PM | |
I just can't help myself. Spring has sprung and I am having a bad case of it. I have the next printables for the Home Management Binder almost ready and the printables and blog post for the Ancient Civilizations unit too, but I had to share this first. I made our bird journal late last year so I wanted us to get started earlier this year in spring.

Last year we started a bird journal because we had a bird presentation with our co-op group. I want to add to the journal this year and make some changes.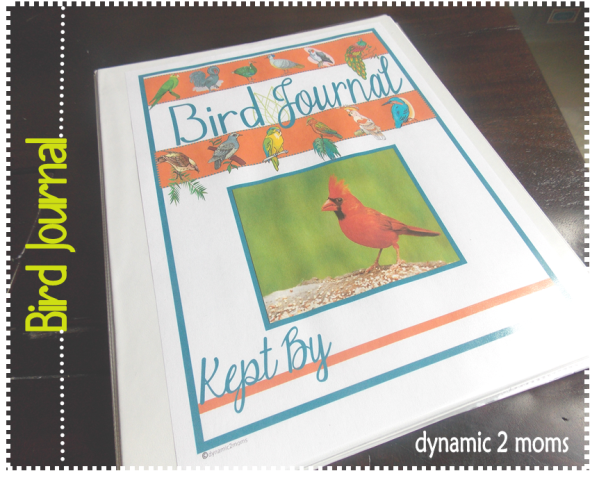 We will be using a notebook journal. We like the fact that we can add and take out pages. Tiny hadn't put his name on it yet because he is still deciding if he wants to add something else to the front page.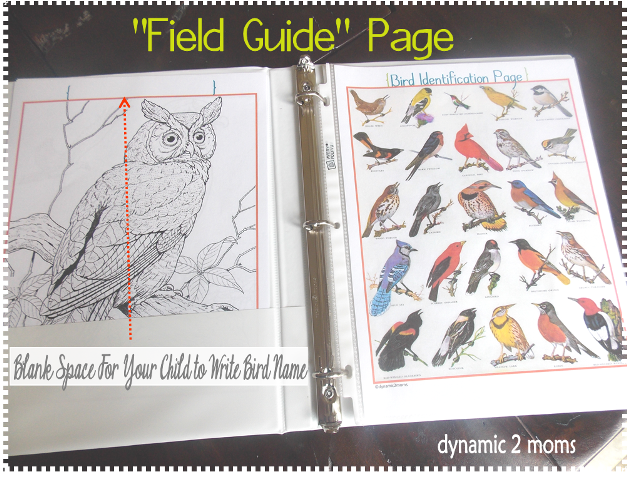 But this year I created a bunch of coloring page for me him. The kid still loves to color when he gets a wild hair and is not rushed. He has a standard of near perfection even for his coloring and I can't imagine where he came up with that idea. Poor kid. So this book is really a time saver for me because I can add coloring pages to the inside pocket and it is pick/up go. You can use this with kids of any age as long as he likes to color every now and again. Boys like coloring less than girls do, but they will participate when they are moved. Plus, this notebook gets him outside to enjoy the weather while still investigating science and nature.

We still want to attach a sketch pencil of some sort and a pen too so we have it with the notebook, but we are off to a good start. I created an easy page for a field guide to help me him identify the birds. As I find pages like this, I will save them and share with you of course so we can add them to our journal. If you have a real young child, print off the page and have him circle the birds as he finds them.

By adding page protectors to the bird  binder, Tiny can save all those feathers and other nature junkies he finds and that can't be glued in so easily. The good thing about a notebook is that you can add pockets, plain paper or anything to store your nature treasures.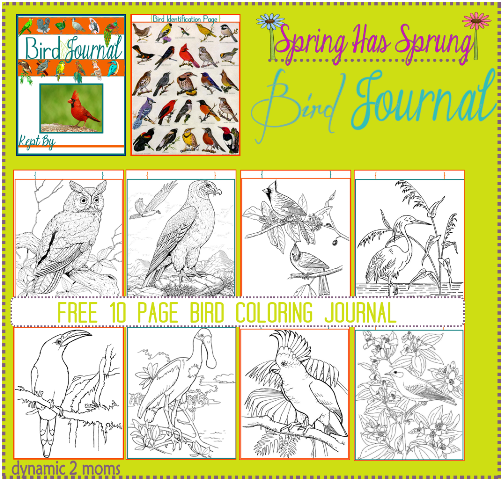 One thing I did add this year as you noticed from the notebook was a color cover. Your child has a choice of cover. He can choose the color one here or the one I did previously. I will explain the one I created last year in a minute. Then there are 8 coloring pages to start off the coloring journal. At the top of each coloring page, I provided a huge space between the parenthesis for your child to write the name of the bird.
Download the 10 page journal here.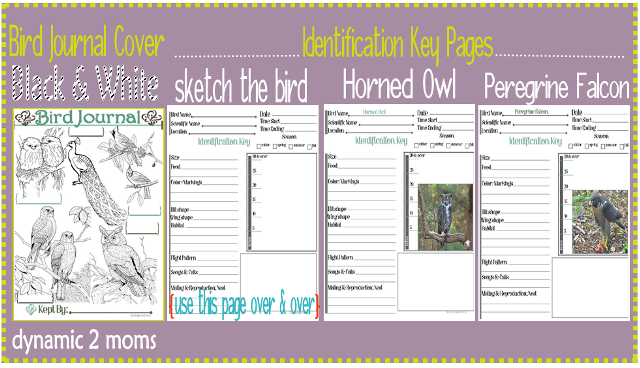 If you didn't follow me last year, you can grab the ones from last year too. This is the set that has the bird identification pages on it and the black and white journal cover page.
Download black and white journal page here if your child wants to color his own birds.
Download the Identification Key Page that is designed to be printed off many times. Print one for each bird you find. This page is designed with older kids in mind because there is writing. Your child can sketch & write about the birds he locates when bird watching or just choose ones that he likes.

Download the Horned Owl Identification Page here. Because we studied about this bird during our bird presentation last year, I created it for Tiny. Maybe you can use it too.
Download the Peregrine Falcon Page here. We studied about this bird too during our bird presentation.
Mix and match the pages from both downloads for a bird notebook for each child.

I hope this gets your children outside some unless you are part of the population that still has a frozen tundra. Spring is coming, I promise, and you will be ready.

Still lounging in beautiful words that we have been enjoying through our poetry study, I had to share more of the poem that I shared with you before.
Hope is the thing with feathers that perches in the soul.
~Emily Dickinson~
Hope is the thing with feathers
That perches in the soul.
And sings the tune
Without the words,
and never stops at all.
So dramatic sounding............

Hugs and you know I love ya,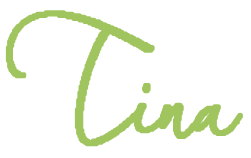 Categories: Dynamic 2 Moms Planner Printables, Life Science Curriculum/Games/Lesson Plans, Coloring Books