| | |
| --- | --- |
| Posted on February 28, 2013 at 8:30 PM | |
Using a lapbook is not just for real young children. I am not sure why that thinking permeates in the homeschool world and I have often wondered why it does. I think sometimes we might feel that middle school or high school is suppose to be only about serious learning. My thinking has changed and has been molded by many homeschool experiences but one thing that has not changed is the need to add a bit of fun to our every day subjects. Easy lapbooking is a way to do this and to curb negative attitudes about middle school and high school.

High school for sure is preparation for adulthood and a livelihood.  For example, in our business we have had to prepare visually appealing brochures. Our very livelihood has depended on the visual appeal of both our business website and our trifold brochures. The layout of a lapbook models for my children the different graphic layouts for any project that they may encounter as adults. The emphasis too is not just on the content or material to be researched but on presentation of the lapbook. I guess that is why I say I use my lapbooks for enrichment. We do unit studies, write some each day and like you, do math. So I am not interested in presenting to my children or anybody else for that matter a bunch of blank uninspiring mini books. 
I try to strike a balance on having some information available to guide them and model for them but leaving some of it blank so they can explore and add what interests them. I keep that in mind as I prepare each lapbook.
Not all of my children will do a lapbook and sometimes my older guys will choose only like 3 or 4 of the books to position on a notebooking page of their choice. That is fine with me too as long as they enjoy the process and make it their own. Knowledge is just acquired information, facts and experiences and it is hard to assign grade level to those experiences. My lapbooks are similar because they can be as easy or as comprehensive  as you want them to be based on your experiences and because you ultimately decide content.
I just wanted you to know my heart behind my work and how I use the lapbooks to reach my goals with my sons. I hope you enjoy them as much I enjoy creating each one. I especially enjoyed creating this lapbook for the Inuit and Arctic as I mixed up some of the clip art so it can be enjoyed by all ages.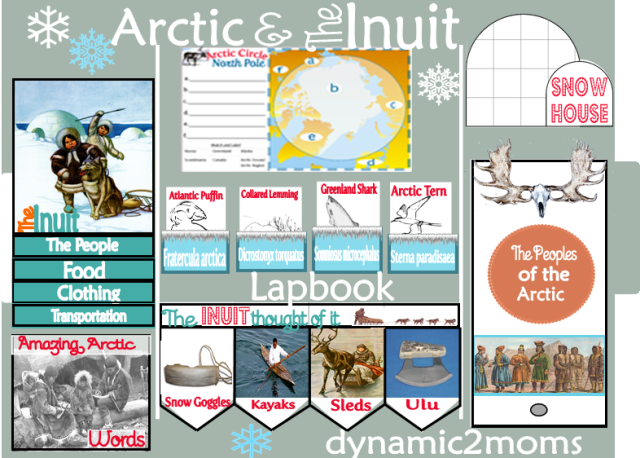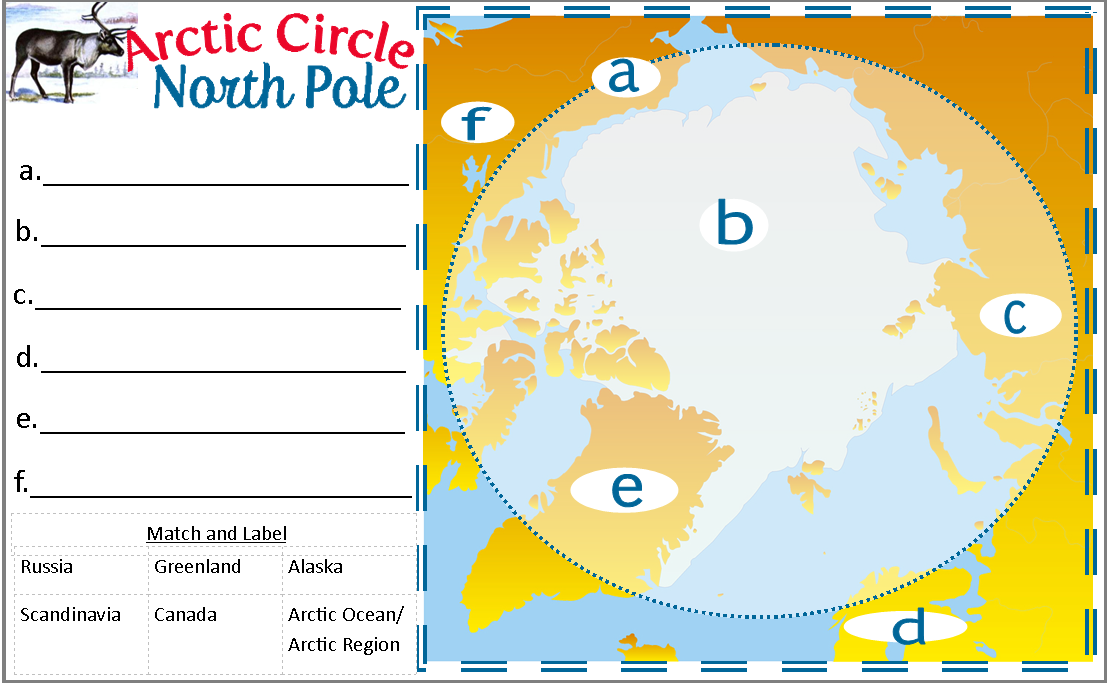 This first minibook in the center is a map of the Arctic Circle. I provide two pages that are the same except one has the countries and areas labeled and the other one is blank so that your child can write them in.  Click here to download the Arctic Circle Map.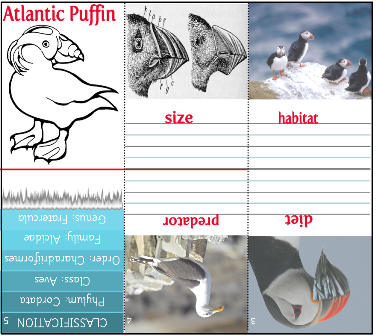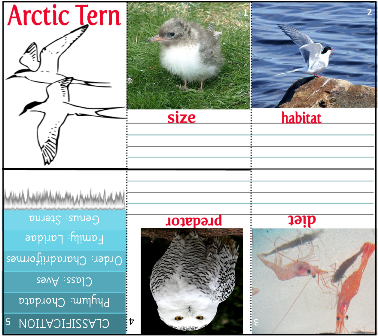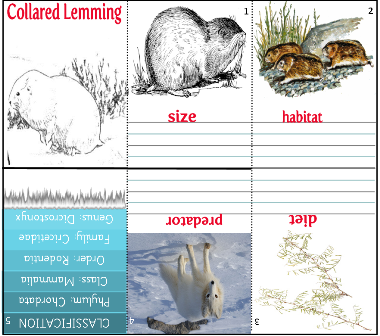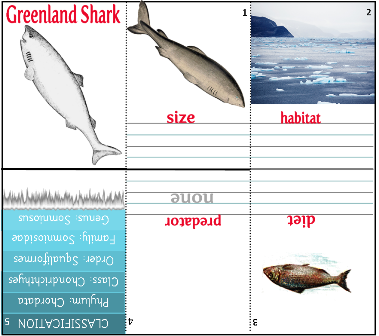 These are tiny meander books. I provide instructions on the page on how to cut them and fold them. They store in mini pockets. Click here to download all four meander books.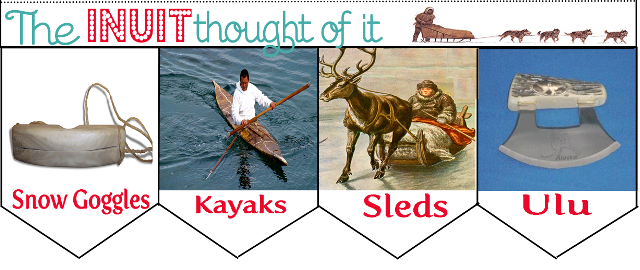 This next book is a 4 tab flip book and small enough so that  a few facts can be written under each tab about the things the Inuit use and thought of. Click here to download the book The Inuit thought of it.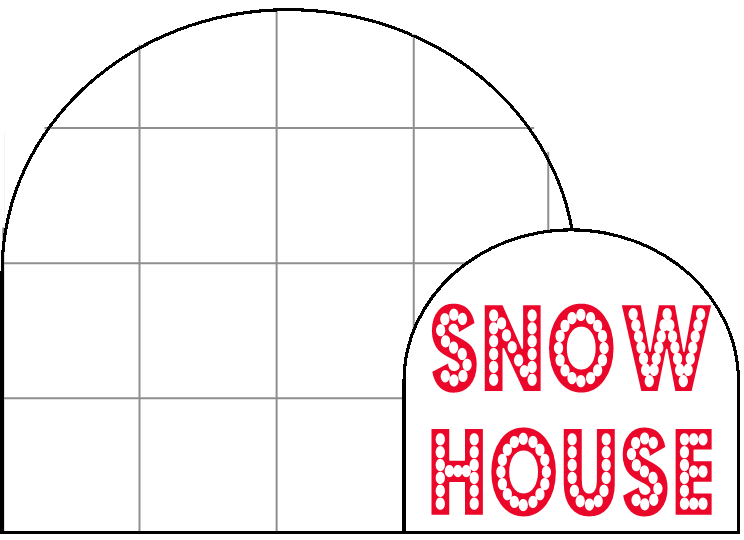 This next shape was much pretty much fun to make. It was interesting to learn about how the Inuit used snow houses to live in as temporary homes while they hunted. Click here to download the minibook Snow House.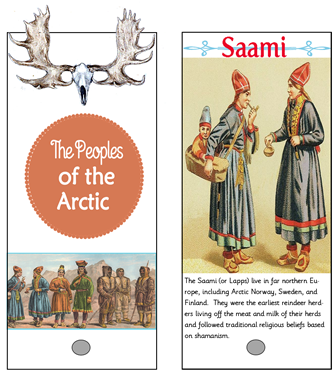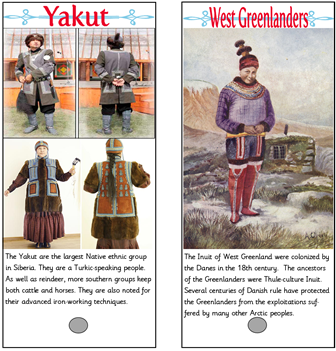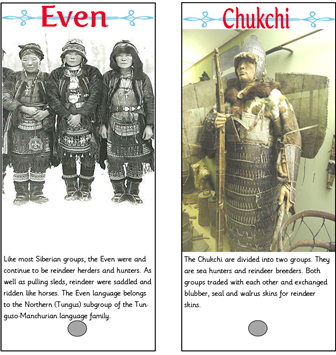 The Peoples of the Arctic was especially fun to do because we read in the book Inuit Glimpses of An Arctic Past about the people of the Arctic. When it comes to learning about any country, it is the diverse style of the people living there and how each adapts to their native land that makes learning come alive. This is a fandex type of book explaining each culture.  Click here to download The Peoples of the Arctic.
This mini book explains some of the everyday things in the lives of the Inuit. Click here to download the layered book.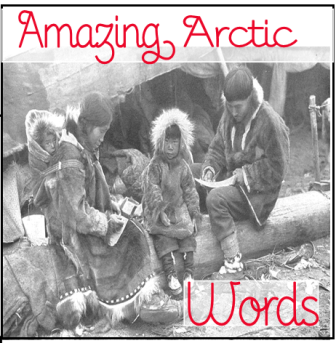 Lastly, I have a mini pocket with vocabulary words to match and store in the pockets. Click here to download Amazing Arctic Words.
I am wrapping up this month with the Free Inuit and Arctic lapbook and I hope you enjoyed this mini unit. I just realized I hit you with several posts in a row. As always though you have time to ponder and download all the freebies.
Are you ready for spring and the next unit study? Maybe it's time for some organizational forms too.

Hugs and you know I love ya,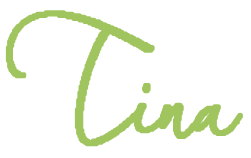 Categories: Dynamic 2 Moms Learning Printables {all topics}, Arctic & Inuit Unit Study, Unit Studies