| | |
| --- | --- |
| Posted on January 8, 2013 at 9:35 AM | |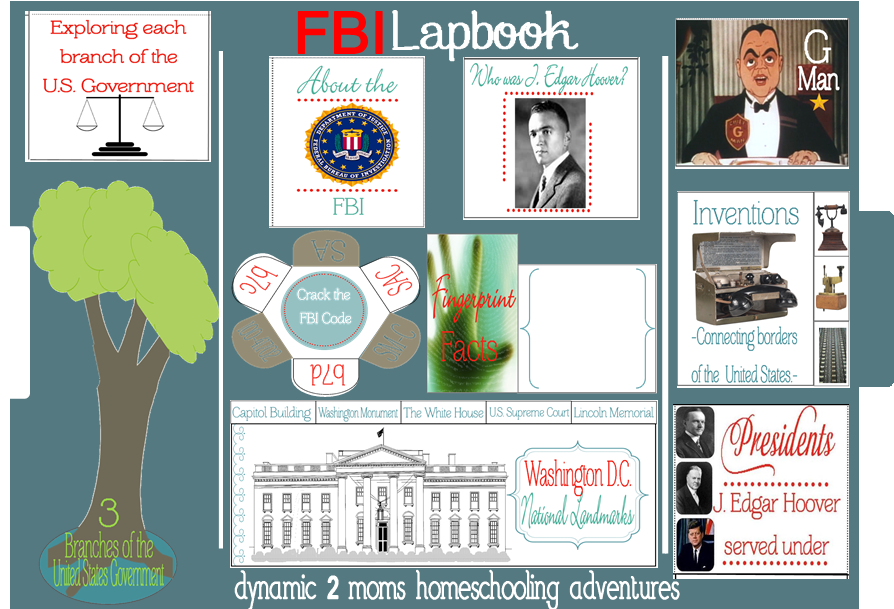 I promise you I have not forgotten about releasing the newest free lapbook about the FBI, but it was such an extensive unit for us. I still have more to share before I release it.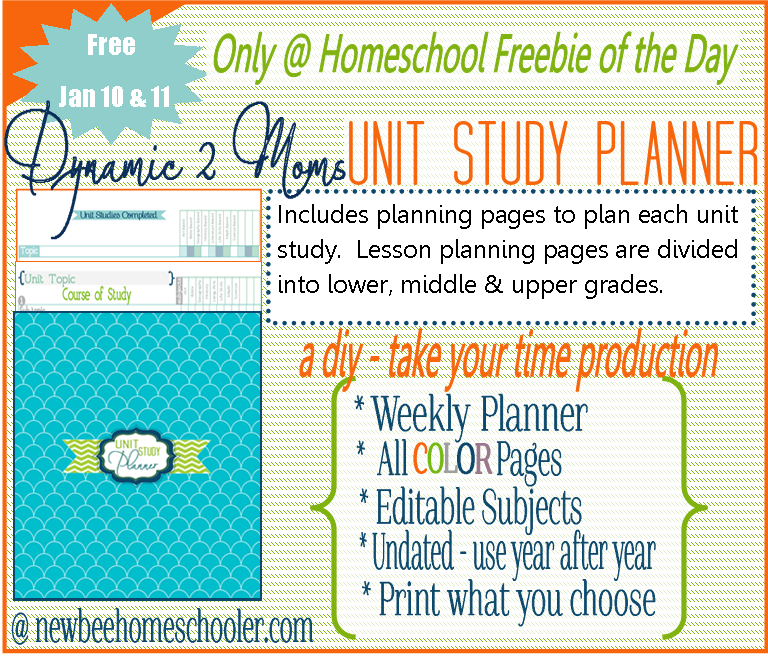 First, I wanted to remind you about a few other things. My newest planner, the comprehensive unit study planner will be free ONLY this week for 2 days on Thursday Jan. 10th and Friday Jan. 11th. You will receive the link from Homeschool Freebie of the Day and the link will be made available only by visiting their website on those days. Just a reminder though I always hold something back special for you so I will be sharing that next week after the limited time for the freebie is up.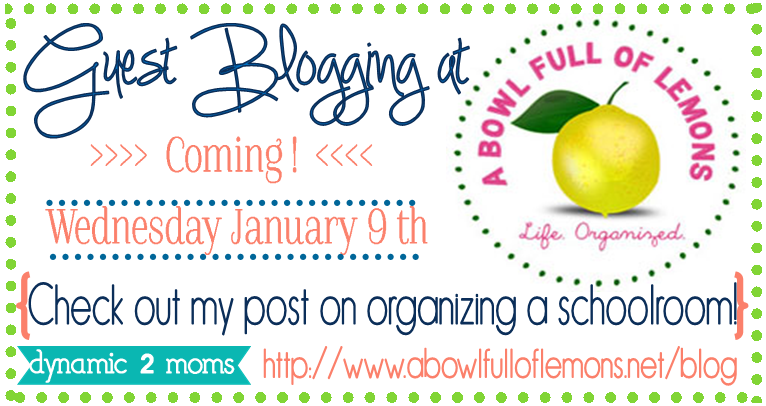 Next thing I have been keeping from you until now and that I am excited to share is that I was invited to guest blog by Toni over at Bowl Full of Lemons. Bowl Full of Lemons is one of my very favorite organization blogs. Even though it is not a homeschool only organization site, I find many useful ideas and tips from her site. My post on organizing a room for homeschooling will be posted tomorrow.
Can I count on you to drop a line or two over there to show your support for homeschooling? Watch for my post tomorrow on her site!

Today, I want to share another activity we did on the FBI unit study and that was to make invisible ink.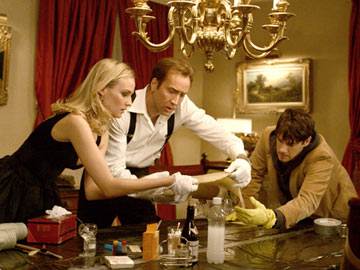 Of course, according to my teenagers anyway, you have to try the experiment out the way they did it on the movie, National Treasure. There are several ways to make invisible ink and we did a couple of them.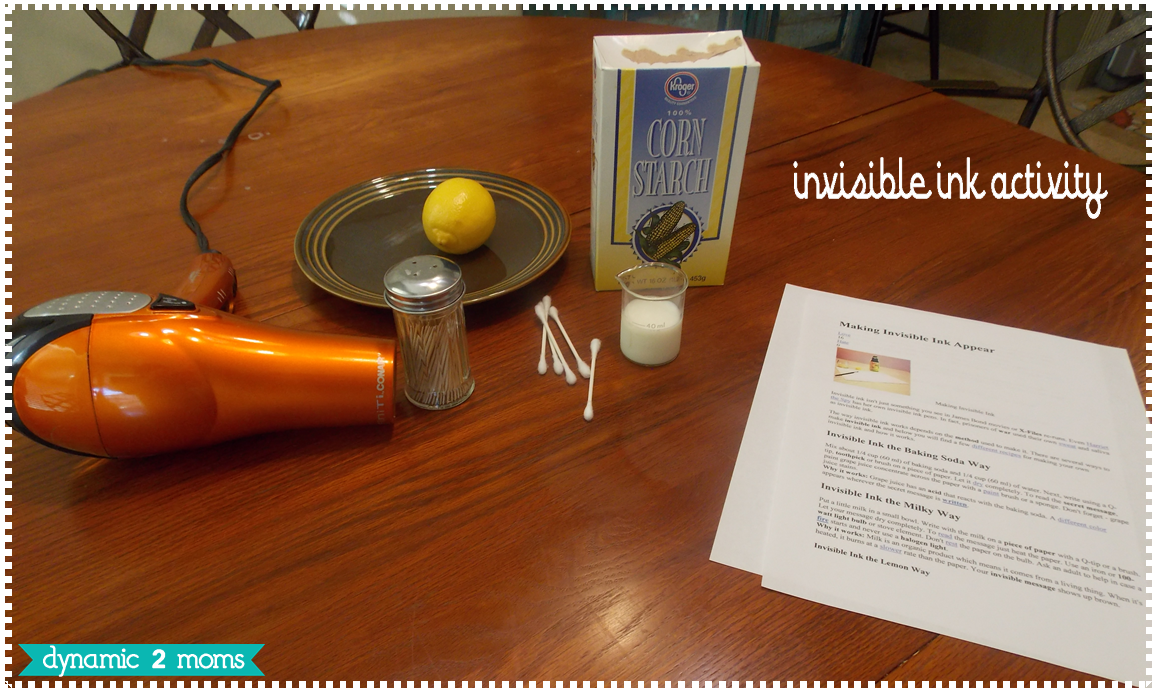 So the teens gathered some supplies and printed off some of the invisible ink activities from the internet. The one they really wanted to do was the one using cornstarch. An iodine solution is used to reveal the writing. You make a gravy using cornstarch and write with that. Then the message will appear purple after rubbing an iodine solution over it. The iodine binds to the starch molecules.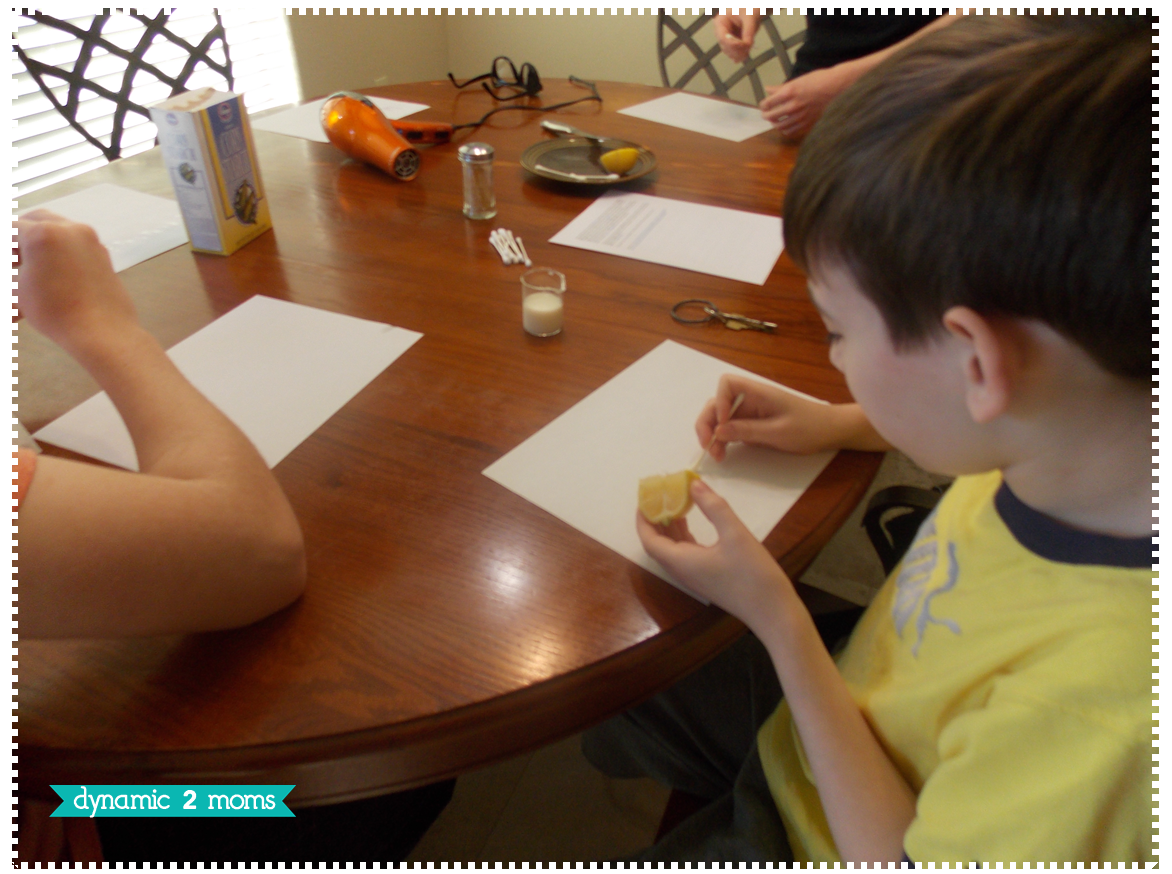 Instead of waiting for me to get some more iodine, they decided to try it the easy way with lemon juice.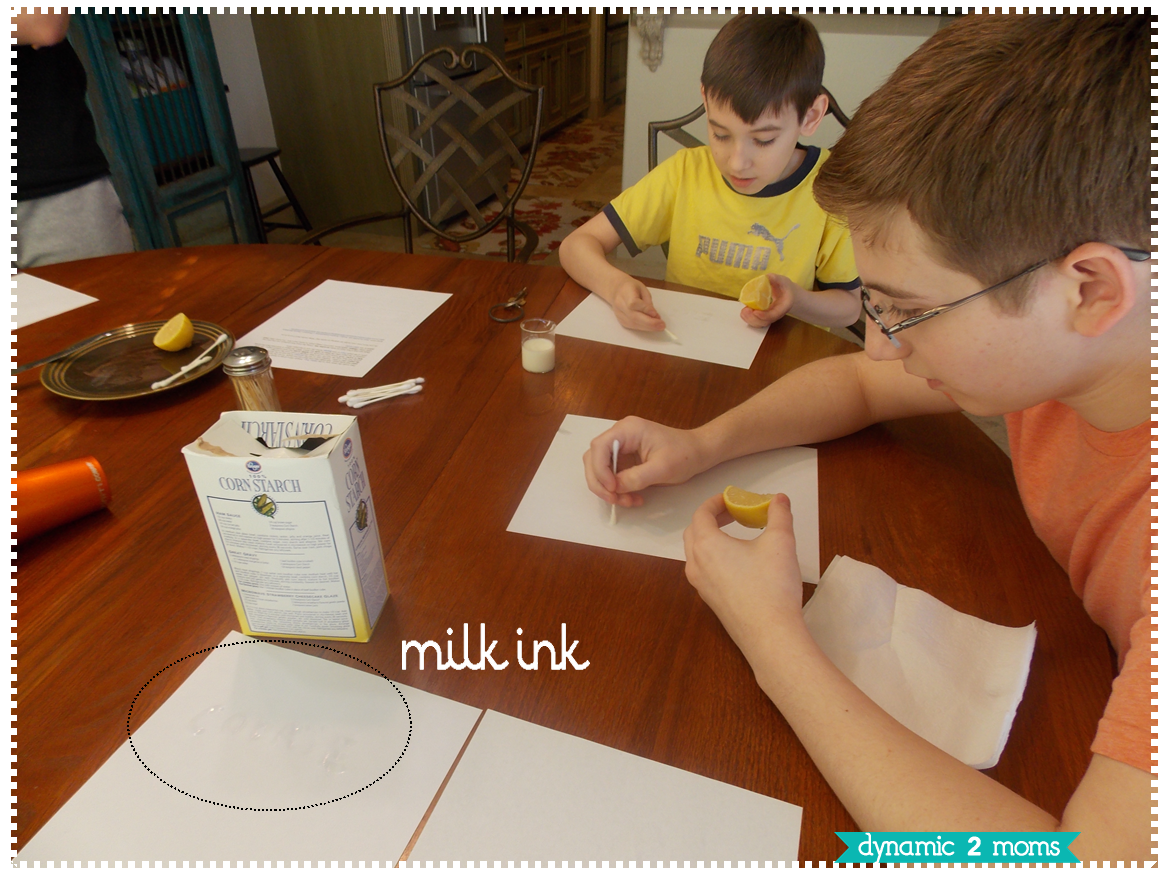 They wrote with milk too.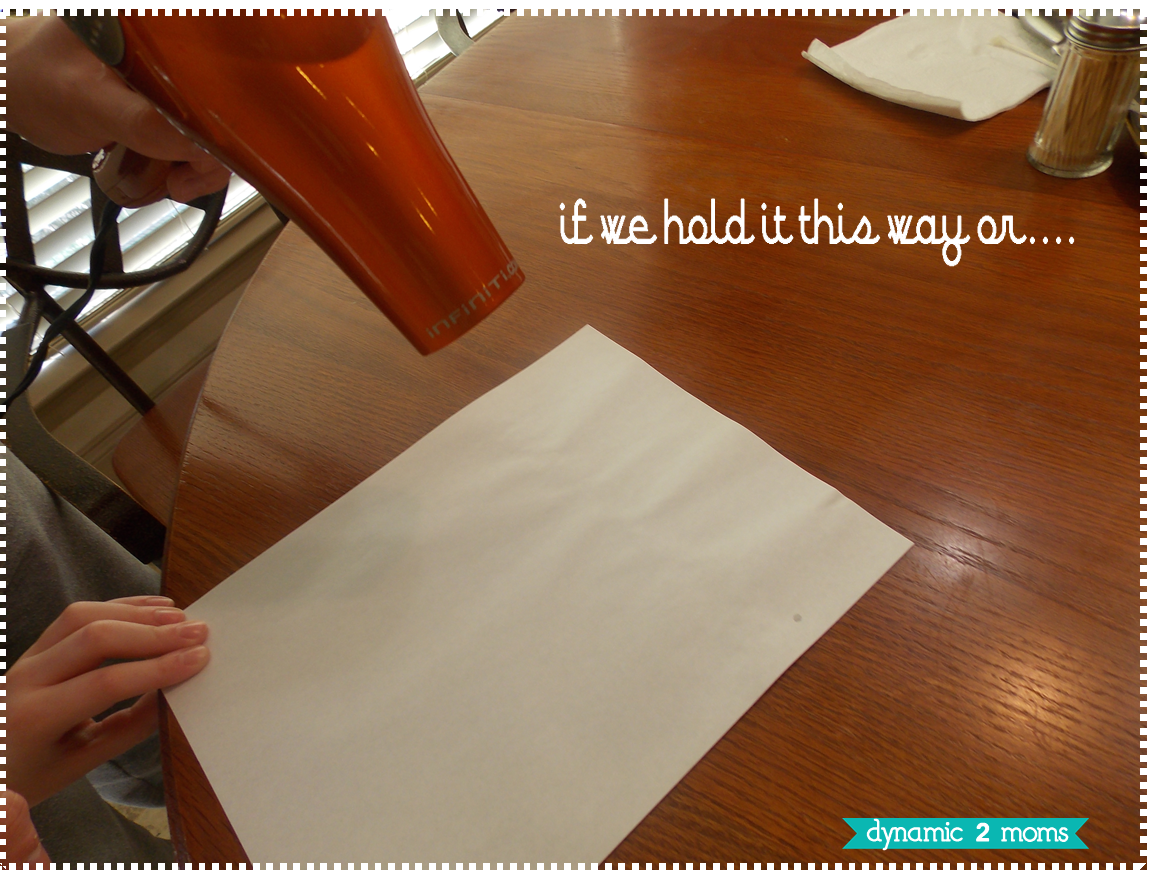 Do you think it would appear with just the heat of the blow dryer?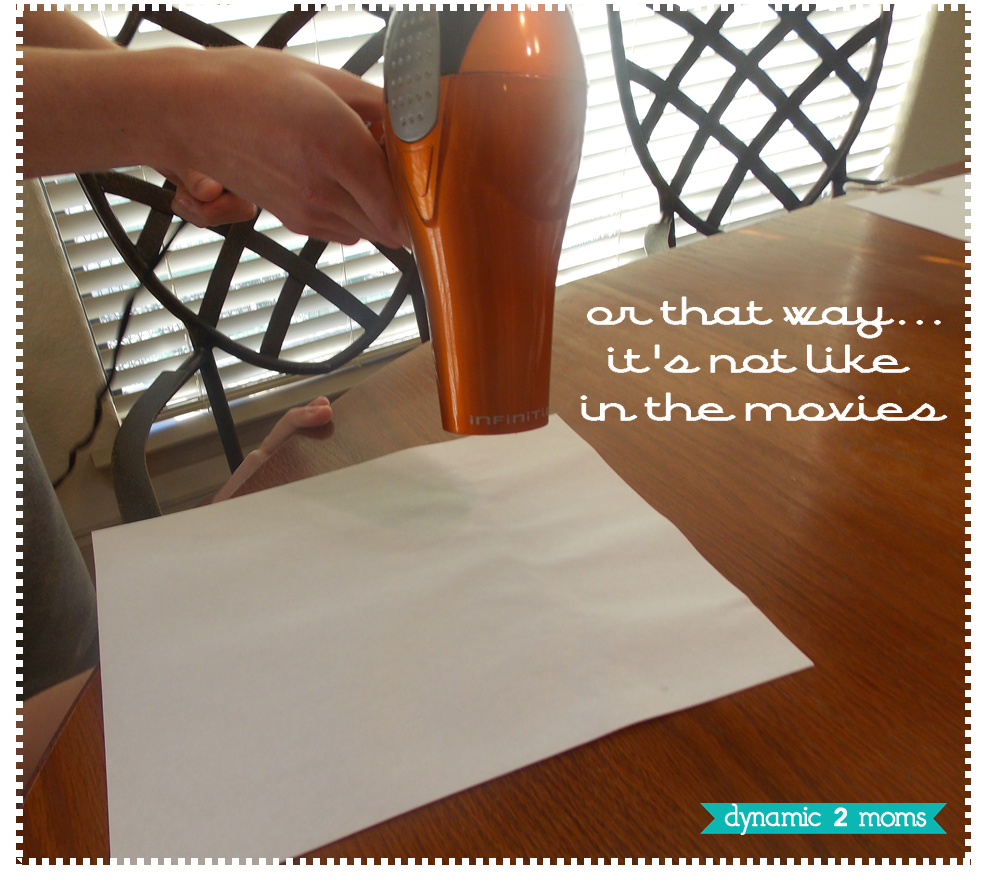 The boys determined that though the blow dryer was beneficial, they needed a much greater heat source like a hot burner or stove.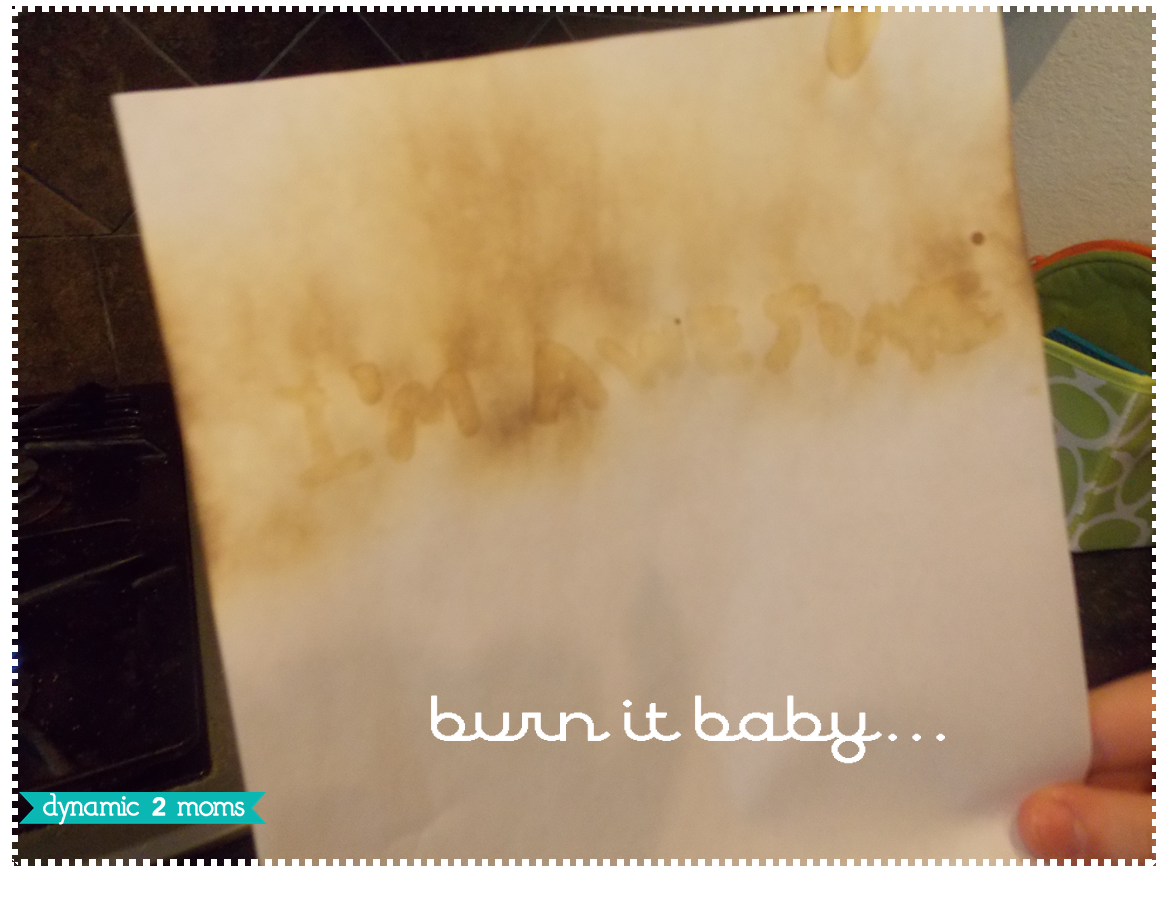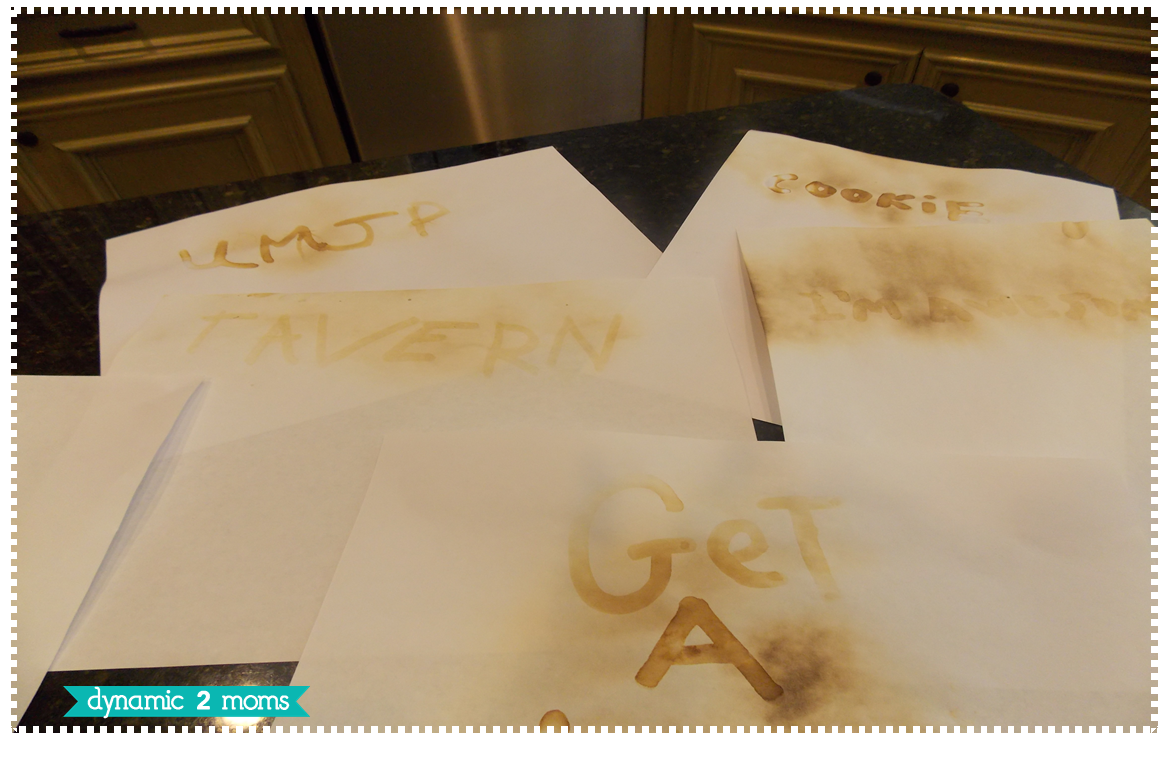 Once we got the burners going on the stove, we had messages.There are many methods to making invisible ink like white wine, vinegar, apple juice and even orange juice.
Click here for the Kids World article on making invisible ink appear if you want some recipes. This activity is an overall easy activity to do and it appeals to kids or adults of any age. They still would like to see a purple message though using iodine.

I have a few more printables to add to this growing unit.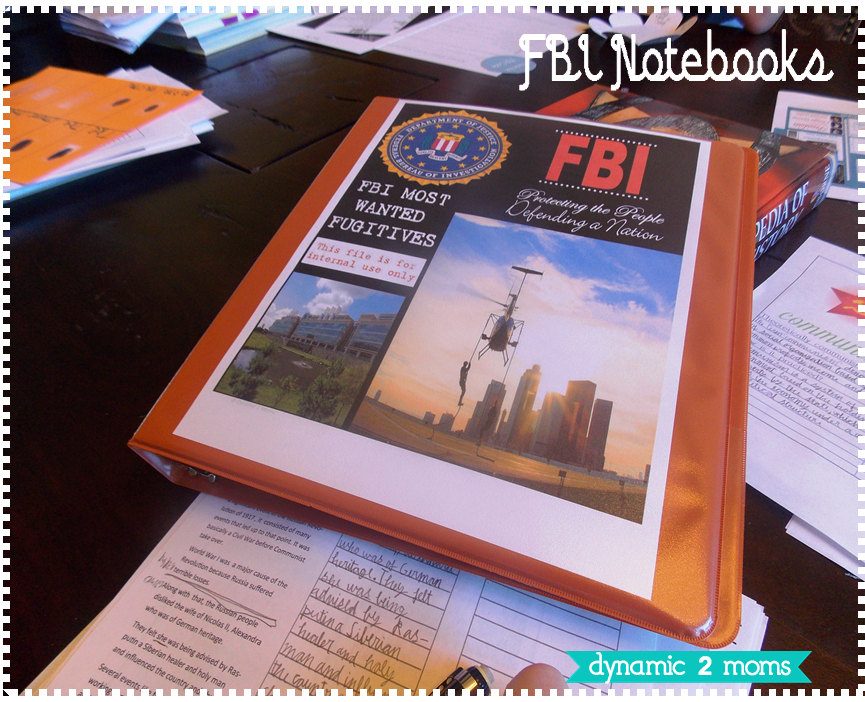 We needed some covers for the notebooks the boys decided to use. I leave it up to my high school sons to decide whether they want to lapbook or notebook. It is such a fine line, I feel, between those two concepts because minibooks can be used in a notebook. So it really is just a matter of how you want to present the information. Presentation is part of the grade for my high school sons so they get the say in how the cover pages are put together. For younger kids using lapbooks, the emphasis could be on crafting and decorating the outside flaps of lapbooks.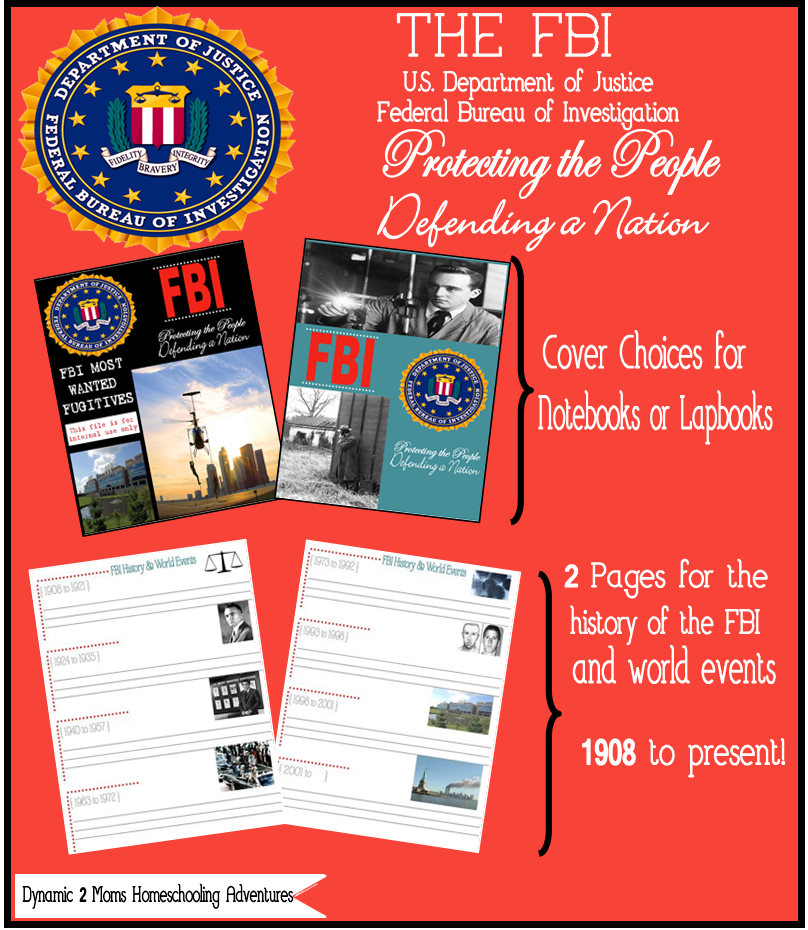 The next round of notebooking pages makes me feel better anyway preparing for the graduation of Mr. Senior 2013. The two pages can be used to track the history of the FBI from 1908 to present and/or add in world events. Just in case I missed anything in the last 100 hundred years of American History he can get the general idea of it in now before he graduates. You know history is our very favorite subject and we probably didn't miss any big events. It just comforts me when I have those moments wondering if I did enough with him.
There are just a few lines on the page to jot down the main world events and/or mix match to line up with the history of the FBI. It is meant to be used as a quick reference for history.  Too, I think it really builds appreciation in understanding what was happening in the world around the special agents as they tried to keep up with changing times.
Download the printables below

FBI Notebooking Pages - World Events and/or history of FBI
By the way if you want to do some more reading about the way they did the invisible ink in the movie, National Treasure, read here . The article, National Treasure - can lemon juice and hot breath reveal invisible ink? is from The Creative Science Center.

Enjoy the printables and I will remind you again tomorrow about my guest blog. Then, one more blog post on Thursday to download my newest planner.

Hugs and you know I love ya,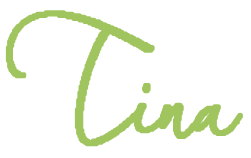 Categories: Dynamic 2 Moms Learning Printables {all topics}, FBI Unit Study, Unit Studies