| | |
| --- | --- |
| Posted on February 9, 2013 at 7:55 AM | |
 After calling the branch office of the FBI, yep I do things like that, to see if I could plan a field trip there, I decided to take their advice and plan a field trip to the Federal Reserve Bank instead. The FBI has a local outreach community and though it sounded nice to have a special agent come and talk to our group, the outreac...
Read Full Post »
| | |
| --- | --- |
| Posted on January 25, 2013 at 7:10 AM | |
This next hands-on activity we did on our FBI unit study ended up involving the whole family or should I say attracted anybody of the male species. You have to love it when dad gets involved. Not only did it end up involving the whole family but we did this over a period of two weeks because the boys changed their minds mid-project.

Also, just so you are clear, though I know you probably are, my name is not Technical Tina. I always say when you homeschool you take on projec...
Read Full Post »
| | |
| --- | --- |
| Posted on January 22, 2013 at 9:55 AM | |
Yippee, finally the first free lapbook on the FBI unit study is ready today. But before I share it, I wanted to mention a couple of things with you. We have received two new sponsors on our blog and are grateful for them.  Not only do sponsors make the blog world go around, but we wanted sponsors that we would use or heart. I am doing a happy dance over our two new sponsors. In addition to Safe Kids Email which is a safe email service for kids and families, Kelley and I welcome EEME and ...
Read Full Post »
| | |
| --- | --- |
| Posted on January 8, 2013 at 9:35 AM | |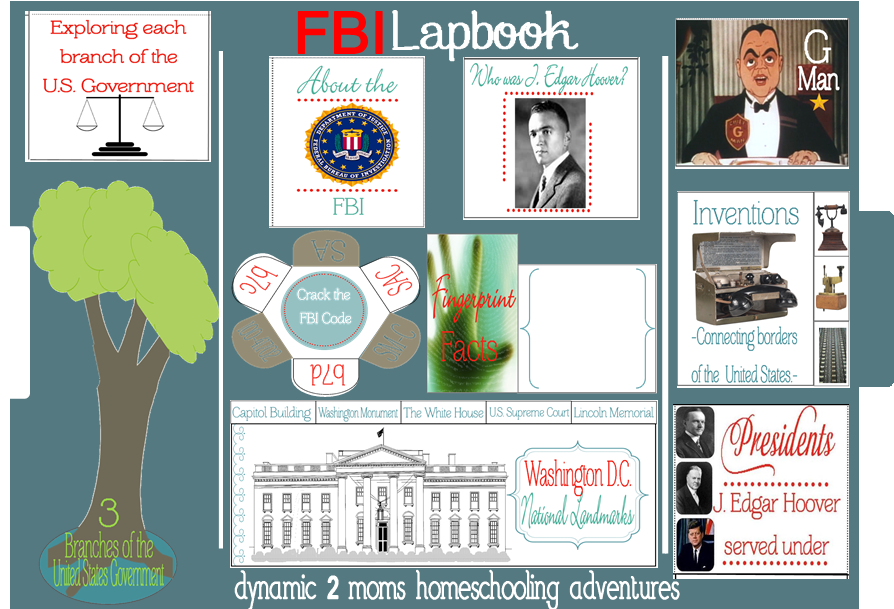 I promise you I have not forgotten about releasing the newest free lapbook about the FBI, but it was such an extensive unit for us. I still have more to share before I release it.
Read Full Post »
| | |
| --- | --- |
| Posted on December 29, 2012 at 2:10 PM | |
I can't wait until the first of the year to start sharing with you what we have been doing on our newest unit study.

I knew when the boys decided to study about the FBI that it was going to be a longer study because of how many sub-topics we had listed. It has taken us more like 6 weeks instead of the normal 4 weeks pace that I try to stick with. Taking fingerprints was a pretty easy experiment to tie in with this study.

Prior to fingerprinting, the Bertillon system of...
Read Full Post »